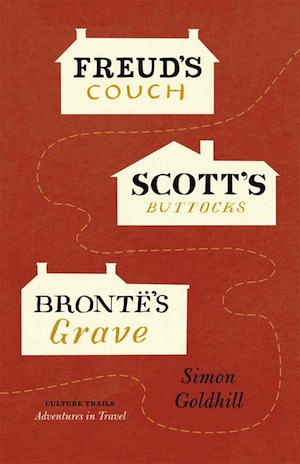 Our free e-book for March is Freud's Couch, Scott's Buttocks, Brontë's Grave by Simon Goldhill. Read more and download your copy below.
***
The Victorian era was the high point of literary tourism. Writers such as Charles Dickens, George Eliot, and Sir Walter Scott became celebrities, and readers trekked far and wide for a glimpse of the places where their heroes wrote and thought, walked and talked. Even Shakespeare was roped in, as Victorian entrepreneurs transformed quiet Stratford-upon-Avon into a combination shrine and tourist trap.
Stratford continues to lure the tourists today, as do many other sites of literary pilgrimage throughout Britain. And our modern age could have no better guide to such places than Simon Goldhill. In Freud's Couch, Scott's Buttocks, Brontë's Grave, Goldhill makes a pilgrimage to Sir Walter Scott's baronial mansion, Wordsworth's cottage in the Lake District, the Brontë parsonage, Shakespeare's birthplace, and Freud's office in Hampstead. Traveling, as much as possible, by methods available to Victorians—and gamely negotiating distractions ranging from broken bicycles to a flock of giggling Japanese schoolgirls—he tries to discern what our forebears were looking for at these sites, as well as what they have to say to . . .