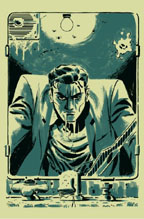 A cold blooded, merciless, professional killer that would make even Superman soil his tights invaded this year's Comic-Con. As we've previously noted, the ruthless antihero of Donald Westlake aka Richard Stark's series of mystery novels, known only as Parker, is making his graphic novel debut in an adaptation of Stark's 1962 novel The Hunter, produced by illustrator Darwyn Cooke and San Diego book editor Scott Dunbier. As the Chicago Tribune's Geoff Boucher reports in his review of the novel for last Wednesday's paper:
adaptation is already being hailed as a masterpiece by key tastemakers in the comics world, and last week it met the public as Cooke and Dunbier took it to Comic-Con International in San Diego, the massive pop-culture expo that is a sort of Cannes for capes or a Sundance for sci-fi.
And in a laudatory article on the new adaptation in today's New York Times contributor George Gene Gustines writes:
Mr. Cooke depicts his characters with such emotion and conveys so much with gesture and composition that, except for the specifics of the hijacking, you could almost follow the story by the images alone. And when the words and graphics are in harmony, the effect . . .