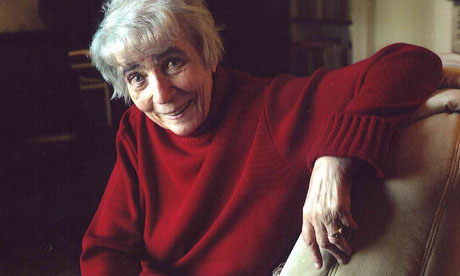 So sad to hear about the passing of Christine Brooke-Rose. What a radiant shining light glimmering above the slog! We can't imitate the wordplay ("affrodizzyacts," though we try). Her words: "Let us play: there are more theories in heaven and earth." Her friend Roland Barthes's words: "The writerly text is ourselves writing, before the infinite play of the world is traversed, intersected, stopped, plasticized by some singular system (Ideology, Genus, Criticism) which reduces the plurality of entrances, the opening of networks, the infinity of languages." Who said it best?
Amid the sadness, though, a chance to revisit the life:
(we bullet)
remembrances up at the Guardian (by Natalie Ferris), htmlgiant (by A. D. Jameson, along with a solid introduction to her work), and the PN Review. Lots of shout-outs popping up on blogs, like this lovely, brief post ("christine brooke-rose, rock star, wildwoman") from writer-critic Kate Zambreno (who, like us, counted Brooke-Rose among her heroes) among all this, wonderful revisits of her novels and essays (Jameson is especially apt in calling-out Such (an imagined Oppenheimer-ian end-game) and Thru (better than William Gaddis rewriting J R as the collective sigh of a polyvocalized . . .