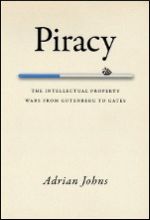 Adrian Johns is having a pretty good series of weeks. Earlier this month, the intellectual property specialist was named a 2012 Guggenheim Fellow. The chair of the Committee on Conceptual and Historical Studies of Science and the Allan Grant Maclear Professor in History at the University of Chicago, Johns plans to use his Guggenheim funding to study the intellectual property defense industry.
Johns is no stranger to prizes. His earlier work The Nature of the Book: Print and Knowledge in the Making won the Leo Gershoy Award of the American Historical Association, the John Ben Snow Prize of the North American Conference on British Studies, the Louis Gottschalk Prize of the American Society for Eighteenth-Century Studies, and the SHARP Prize for the best work on the history of authorship, reading and publishing. Piracy: The Intellectual Property Wars from Gutenberg to Gates, his most recent volume, won the American Society for Information Science and Technology's Book of the Year Award and was a CHOICE Outstanding Academic Title.
Just yesterday, Johns was feted in a ceremony bestowing yet another honor on his work with Piracy, the Gordon J. Laing Prize for best faculty author, editor or translator of a book published in . . .