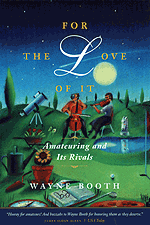 Wayne C. Booth (1921–2005) was the George M. Pullman Distinguished Service Professor Emeritus in English Language and Literature at the University of Chicago, one of the most renowned literary critics of his generation, and an amateur cellist who came to music later in life.  For the Love of It is a story not only of one intimate struggle between a man and his cello, but also of the larger conflict between a society obsessed with success and individuals who choose challenging hobbies that yield no payoff except the love of it. 
"Will be read with delight by every well-meaning amateur who has ever struggled.… Even general readers will come away with a valuable lesson for living: Never mind the outcome of a possibly vain pursuit; in the passion that is expended lies the glory."—John von Rhein, Chicago Tribune"If, in truth, Booth is an amateur player now in his fifth decade of amateuring, he is certainly not an amateur thinker about music and culture. . . . Would that all of us who think and teach and care about music could be so practical and profound at the same time."—Peter Kountz, New York Times Book Review
"Wayne Booth, the prominent American literary critic, has . . .