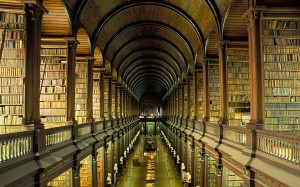 Recently, a spate of articles appeared surrounding the future of the university press. Many of these, of course, focused on the roles institutional library sales, e-books, and shifting concerns around tenure play in determining the strictures and limitations to be overcome as scholarly publishing moves forward in an increasingly digital age. Last week, Book Business published an profile on what goes on behind the scenes as discussions about these issues shape, abet, and occasionally undermine the relationships between the university press, its supporting institution, its constituents, and the consumers and scholars for whom it markets its books. Including commentary from directors at the University of North Carolina Press, the University of California Press, and Johns Hopkins University Press, the piece also included a conversation with our own director, Garrett Kiely:
From Dan Eldridge's "The State of the University Presses" at Book Business:
Talk to University of Chicago Press director Garrett Kiely, who also sits on the board of the Association of American University Presses (AAUP), and he'll tell you that many of the presses that are struggling today — financially or otherwise — are dealing with the same sort of headaches being suffered by their colleagues in the commercial world. . . .