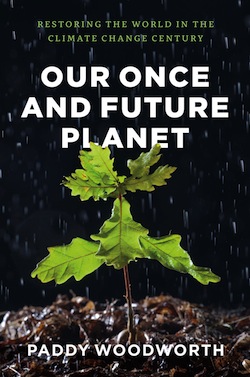 A little more than a year ago, we published Paddy Woodworth's Our Once and Future Planet,  an ambitious, even monumental account of the past, present, and future of the ecological restoration movement that was recently named one of the year's Outstanding Academic Titles by the ALA's Choice. Then, this past autumn, Paddy came to the States and spent a little over a month talking with people about the book in a variety of settings. Now that he's back in Ireland and settling in for the holidays, we asked Paddy to offer some thoughts on what it's like to hit the road promoting not just a book, but an idea.
Publishing a book is a little like casting a stone into a well. We write, as Seamus Heaney put it, "to set the darkness echoing." And often we wait a long time for the echoes, and must count ourselves lucky if we hear any at all.
Our Once and Future Planet was published by the University of Chicago Press a year ago last October. It charts my journey into the challenging world of ecological restoration projects worldwide; it examines and ultimately finds precious if tenuous hope in restoration ecology's promise to reverse the globalized . . .