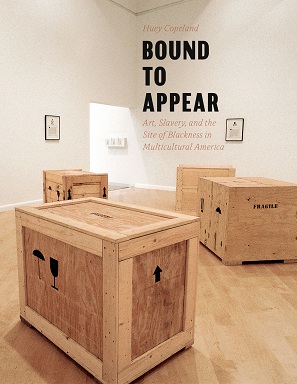 Partial excerpt: "Introduction: The Blackness of Things,"
 from Bound to Appear: Art, Slavery, and the Site of Blackness in Multicultural America
by Huey Copeland
***
In Bound to Appear, I explore the significance of transatlantic slavery within critical aesthetic practice at the close of the twentieth century, when, for the first time in history, an appreciable number of artists of non-European ancestry figured prominently in the mainstream United States art world. What emerges from this study is a detailed picture of a how a generation of African American practitioners in the late 1980s and early '90s negotiated both racialized discourses and art-historical antecedents in framing their work, recasting the appearance of blackness, and making common cause with marked subjects the world over.
While few scholars have tried their hands at charting this terrain, the aesthetic and political contradictions that black artists and their audiences confronted did not go unnoticed at the time; indeed, they were heralded and discussed at length in the pages of Time magazine:
So often, the news from black America seems to be all bad: crime, broken families, . . .