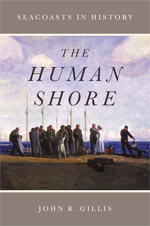 The devastation wrought by Hurricane Sandy to the Mid-Atlantic and Northeastern United States, the Caribbean, and Eastern Canada continues to exceed early damage estimates, with almost 66 billion dollars in losses currently anticipated for the US alone, and a death toll of 253 afflicting seven nations. In his recent book The Human Shore: Seacoasts in History, John R. Gillis articulates—and even anticipates—how our relationship to the sea has begun to take on new and potentially catastrophic dimensions. Accounting for more than 100,000 years of seaside civilization, Gillis argues that in spite of mass movement to the coasts in the last half-century, we have forgotten how to live with our oceans. Applying this knowledge to our tenuous responses to this most recent disaster, Gillis explains how a shift in education, awareness, and planning might yet allow us to learn the lessons necessary for sustainable coinhabitance with the seas. You can read more of his thoughts on what we can do below.
***
"History Has Lessons for Post-Sandy America" by John R. Gillis
In the wake of Hurricane Sandy, Americans are finally beginning to ask themselves whether or not it might be advisable to build . . .