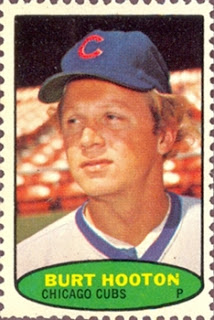 Who is Burt Hooton? Your guess is as good as mine, or more likely, it's better than mine. My answer is he's no Mickey Lolich, but that's because I grew up in Detroit—though, as Susan Sontag would say, Under the Sign of Jack Morris. But back to your guess—if you're schooled in Cubs lore, come to the Wrigley Centennial Trivia Showdown on Wednesday, May 28th, at the Harold Washington Library,  in celebration of the year that brought you the births of Sun Ra, Julio Cortázar, and a certain stadium. Your hosts are Stuart Shea, doyen of Cubs history, and the Chicago Tribune's Rick Kogan, and you can win t-shirts, plates, commemorative posters, and gift certificates to Birrieria Zaragoza, Clark Street Sports, Girl and the Goat, The People's Garment Company, & Tales, Taverns, and Towns.
From the Chicago Reader: 
Stuart Shea, author of Wrigley Field: The Long Life and Contentious Times of the Friendly Confines, and the Tribune's Rick Kogan host the Wrigley Centennial Trivia Showdown. Test your knowledge of the legendary ballpark alongside other Cubs enthusiasts and maybe win a Wrigley Field prize pack, or bragging rights that might earn you a free drink or two around Clark and Addison.
From . . .