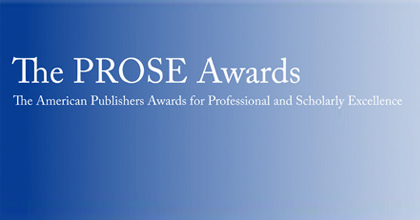 The 2012 PROSE Awards, announced February 7, 2013, "annually recognize the very best in professional and scholarly publishing by bringing attention to distinguished books, journals, and electronic content in over 40 categories." Since 1976, the Professional and Scholarly Publishing (PSP) Division of the Association of American Publishers (AAP) have bestowed the awards on deserving recipients—and among them, we're delighted to see several University of Chicago Press books acknowledged. Congrats to all the winners and honorable mentions!
***
The awards for History of Science, Medicine, and Technology featured a clean sweep by Chicago, led by Daniela Bleichmar's Visible Empire: Botanical Expeditions and Visual Culture in the Hispanic Enlightenment, which traces both the little-known history of scientific expeditions in the Hispanic Enlightenment and the history of visual evidence in both science and administration in the early modern Spanish empire.
An Honorable Mention was awarded to Sachiko Kusukawa's Picturing the Book of Nature: Image, Text, and Argument in Sixteenth-Century Human Anatomy and Medical Botany, a consideration of the works three early modern learned authors who dealt with botany and anatomy—Leonhart Fuchs, Conrad Gessner, and Andreas Vesalius—and how their illustrations were integral to producing a . . .