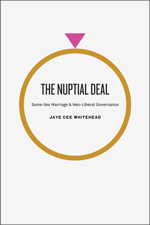 To better understand the shift in activist politics and policy—from rejection of marriage as an institution to lobbying for same-sex couples' right to marry—by gay and lesbian rights organizations, read The Nuptial Deal: Same-Sex Marriage and Neo-Liberal Governance by Jay Cee Whitehead.
Whitehead's argument parallels the transformation that occurred in the minds of activists and ordinary citizens with the rise of neo-liberalism, ultimately arguing that the federal government's resistance to same-sex marriage stems not from "traditional values" but from fear of exposing marriage as a form of governance rather than a natural expression of human intimacy.
To better grasp the pattern of waxing and waning same-sex marriage has faced in terms of public visibility—and to comprehend how policy cycles and political opportunity have characterized debates since the 1996 passing of the Defense of Marriage Act—read The Politics of Same-Sex Marriage, edited by Craig A. Rimmerman and Clyde Wilcox.
The Politics of Same-Sex Marriage brings together an esteemed list of scholars who consider how court rulings and local legislatures have kept the issue alive in the political sphere, and conservatives and gay rights advocates have made the issue a key battlefield in . . .