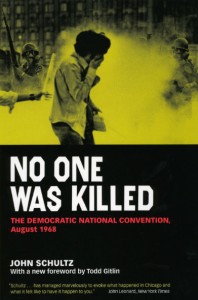 John Schultz, author of The Chicago Conspiracy Trial and No One Was Killed: The Democratic National Convention, August 1968, recently spoke with WMNF about the history of police militarization, in light of both recent events in Ferguson, Missouri, and the forty-sixth anniversary (this week) of the 1968 Democratic National Convention in Chicago. Providing historical and social context to the ongoing "debate over whether the nation's police have become so militarized that they are no longer there to preserve and protect but have adopted an attitude of 'us' and 'them,'" Schultz related his eyewitness accounts to that collision of 22,000 police and members of the National Guard with demonstrators in Chicago to the armed forces that swarmed around mostly peaceful protesters in Ferguson these past few weeks.
The selection below, drawn in part from a larger excerpt from No One Was Killed, relays some of that primary account from what happened in Grant Park nearly half a century ago. The full excerpt can be accessed here.
***
The cop bullhorn bellowed that anyone in the Park, including newsmen, were in violation of the law. Nobody moved. The newsmen did not believe that they were marked men; they thought it was . . .