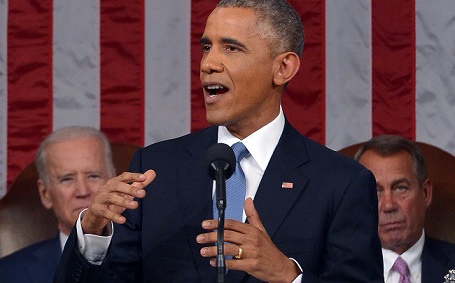 As with the past few years, we are fortunate enough to have scholar Sandra M. Gustafson contribute a post following Barack Obama's annual State of the Union address, positing the stakes for Obama's rhetorical position in light of recent events in Ferguson, Missouri, and New York City (while pointing toward their more deeply embedded and disturbing legacies, respectively). Read Gustafson's 2015 post in full after the jump below.
***
Lives that Matter: Reflections on the 2015 State of the Union Address
by Sandra M. Gustafson
 In his sixth State of the Union address, President Barack Obama summarized the major achievements of his administration to date–bringing the American economy back from the Great Recession, passing and implementing the Affordable Care Act, advancing civil rights, and winding down wars in Iraq and Afghanistan, while shifting the emphasis of US foreign policy toward diplomacy and multilateralism – and presented a framework for new initiatives that he called "middle class economics," including affordable child care, a higher minimum wage, and free community college. Commentators compared the president's emphasis on the successes of his six years in office to an athlete taking a victory lap. Some . . .