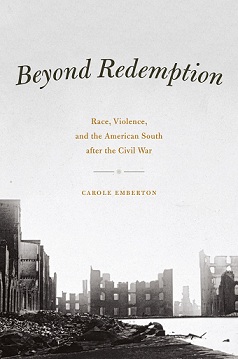 In a recent piece for the History News Network, scholar Carole Emberton (whose Beyond Redemption: Race, Violence, and the American South published this month) takes on the Paula Deen controversy, both prior to and in light of SCOTUS's recent decision on the Voting Rights Act:
For the past few days, there has been much ado about Paula Deen's use of a certain racial epithet. It's not much ado about nothing, however, as many of her defenders would like to us believe. This incident, along with a seemingly unrelated case now before the Supreme Court, challenge our understandings of what history is and what it means for the nation's political life.
Both Deen and her defenders plead her case by arguing that she is old and southern and therefore cannot help using such language. Her great-grandfather owned slaves. She grew up under Jim Crow. "She's just from another time," concluded one patron of her popular restaurant. Perhaps it is ironic that the patron was of the race that bears the stigma of the racial epithet that the chef admitted using. Perhaps not. For both Deen and her unlikely defender, the past is like . . .