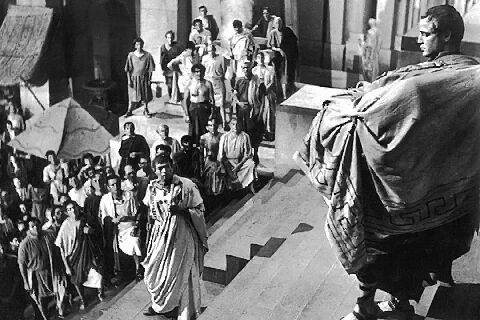 An excerpt from "'Romans, Countrymen, and Lovers': Political Love and the Rule of Law in Julius Caesar," in Shakespeare and the Law: A Conversation among Disciplines and Professions
Julius Caesar shows us two different kinds of political love, in tragic opposition. Brutus is principled, but he is not cold. He loves the institutions of the Roman Republic, and he tells us that this abstract love has driven out his personal love of Caesar, as fire drives out fire. He appeals to the emotions he believes all Romans have for their threatened republican form of government. Addressing them as "countrymen and lovers" (3.2.13), he summons them to love of country and hatred of oppression. Suspicious of any particularistic attachment, Brutus prefers emotions resolutely fixed on an abstract object, which reason can justify and commend. He expects all Romans to be like him: deliberative citizens, who value liberty with both their judgment and their hearts.
Brutus's antitype is Antony, who can understand no kind of love other than the personal, who cannot refrain from calling the dead man "Julius" even in the presence of the conspirators, and whose "Oh, . . .