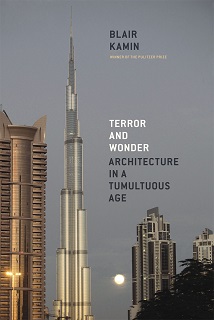 In Terror and Wonder, Pulitzer Prize–winning Chicago Tribune architecture critic Blair Kamin assembled his most memorable writing from the past decade, as well as some polemical observations on the changing context of the built environment. Among them are two that have taken on a new life in the past couple of weeks: "The Donald's Dud: Trump's Skyscraper, Shortened by the Post-9/11 Fear of Heights, Reaches Only for Mediocrity" and "A Skyscraper of Many Faces: In Trump's Context-Driven Chicago Skyscraper, Beauty Is in the Eye—and the Vantage Point—of the Beholder." The first piece decries the original design, leaving little room for ambivalence; the other considers the finished construction, and all in all, mostly lauds its structure.
Fast forward. Trump's skyscraper has now been branded unequivocally as part of Trump's real estate empire, in twenty-foot-tall block letters that spell out his eponym. Kamin unleashed some sharp criticism of the sign in a Chicago Tribune column last week, pointing the blame at city government for allowing this particular type of self-aggrandizement to continue due to obscure politicking:
"It's a lack of sophisticated design guidelines as well as the teeth to enforce them. Trump's sign isn't the only offender — it's just the most egregious — in a city where skyline branding has . . .