#UPWeek: Turabian Teacher Collaborative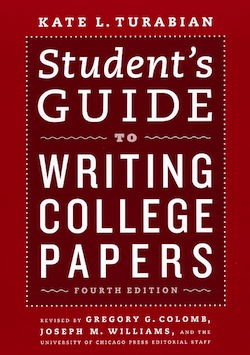 Welcome to the third annual #UPWeek blog tour—we're excited to contribute under Monday's umbrella theme, "Collaboration," with a post on the Turabian Teacher Collaborative. To get the ball rolling and further the mission, here's where you can find other university presses, big and small, far and wide, posting on similarly synergetic projects today: the University Press of Colorado on veterinary immunology, the University of Georgia Press on the New Georgia Encyclopedia Project, Duke University Press on Eben Kirksey's The Multispecies Salon, the University of California Press on Dr. Paul Farmer and Dr. Jim Yong Kim's work on the Ebola epidemic in West Africa, the University of Virginia Press on their project Chasing Shadows (a special e-book and website devoted to Watergate-era Oval Office conversations), McGill-Queen's University Press on the online gallery Landscape Architecture in Canada, Texas A & M University Press on a new consumer health advocacy series, Project MUSE on their history of collaboration, and Yale University Press on their Museum Quality Books series. Remember to follow #UPWeek on Twitter, and read on after the jump for the story of the Turabian Teacher Collaborative's first two years.
***
One of the foundational principles of Kate Turabian's classic writing guides is that research creates a community between writers and readers. Professors Joseph Williams and Gregory Colomb put the principle of a community into action when they collaborated several years ago to adapt Turabian's guides for a new generation of student researchers. During their writing process, they circulated and reworked each other's contributions so much that, "by the end of the process, no one could quite remember who had drafted what."
Channeling the spirit of this "rotational" writing process, the Turabian Teacher Collaborative adds high school teachers and a university press into the mix of colleagues working to bring Turabian's principles to a new audience. The University of Chicago Press developed this project with University of Iowa English education professors Bonnie Sunstein and Amy Shoultz, after determining that much in Turabian's Student's Guide to Writing College Papers aligns with the Common Core State Standards for English Language Arts. Sunstein and Shoultz suggested that the Press begin by inviting high school teachers to test the effectiveness of Turabian's book, both at helping high schools meet the Common Core standards and at helping students become college ready.
To strategize for the project's pilot year, participating teachers—from urban, rural, and suburban high schools in California, Illinois, Massachusetts, and Iowa—convened for a workshop at the Press in the summer of 2013. They all left equipped with a set of books and free classroom resources drawn from the book, including topic sheets and ELA Common Core–aligned lesson plans. Following the workshop, this team of teachers integrated these materials into their curricula and exchanged resources and insights on their experiences throughout the year. Later this month, several members of the Turabian Teacher Collaborative will share what they have learned with teachers from across the country at a workshop following the NCTE annual convention in Washington, DC.
And, of course, high school students are now part of the collaboration and its community of researchers, as they envision the needs of readers by engaging in peer review at every step of the writing process. As participating teacher Deb Aldrich of Kennedy High School in Cedar Rapids, Iowa, said of her students' response to the book: "[They] acted as sounding boards, polite disagree-ers, questioners, cheerleaders, and empathizers. They would come to class and ask if we were meeting in our research groups today, which showed how much they valued participating in a real shared research conversation, not just an imaginary one in their heads. They acted and felt like academic researchers!"
The Press plans to use feedback like this to develop a teachers' resource guide this year, as well as additional resources for research writing in future high school classrooms. As the collaborative moves into its second year, it is expanding to include high school teachers from across the disciplines who teach research and academic writing skills. Are you one of them? For more information, e-mail turabianteacher@press.uchicago.edu.
(in the spirit of #UPWeek, this post was collaboratively generated by University of Chicago Press staff members working with the TTC)
To learn more about the TTC project, click here.
Stay tuned for more from #UPWeek's blog tour!