The Miss Manners of Chicago Style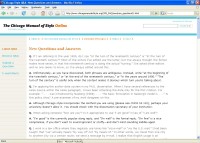 Today's issue of the the Chicago Reader—the Spring Books Special—has a nice little feature about the writer of The Chicago Manual of Style Q&A. But if you're hoping that the identity of the Q&A writer will at long last be revealed to all the world … you'll be disappointed to learn that the woman behind the wit of the Q&A has adopted a pseudonym, Jody Fisher.
Every month new entries are published to the The Chicago Manual of Style Q&A. Here's one from this month's lot:
Q. Is it really necessary to include "as" before "per"?
For example, "Client has requested, as per original agreement, two hard copies of all reports."
Since "per" means "according to," can't we just delete the unnecessary (and wordy-looking) "as"? Thank you, great gurus, for your wisdom!
A. It is not necessary to add "as." In fact, it used to be considered incorrect, and sticklers still feel superior when they slash through it.