The Man with the Illustrated Face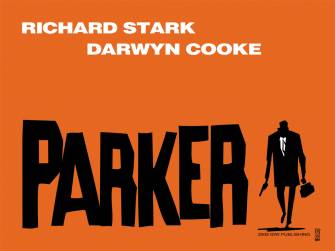 Last Fall, the University of Chicago Press began republishing the Parker novels, a series of hardboiled noir thrillers starring the eponymous one-named thief, by Richard Stark (one of the many pseudonyms used by prolific mystery writer Donald Westlake, who died last December). So far, the Press has nine titles, and more are in the pipeline. Everyone, from the New York Times and the Los Angeles Times to Time Out and Entertainment Weekly, has heralded the return of these books. Already immortalized in film by Lee Marvin, Gene Hackman, Robert Duvall, and Mel Gibson, now Parker is set to appear in a more graphic form.
A graphic novel, that is. The Comics Reporter features an interview with artist Darwyn Cooke, who is converting the first Parker novel, The Hunter, into comic form. It's a fascinating and broad-ranging conversation about collaboration, Westlake's vast oeuvre, and how to draw Parker. After you check that out, read an interview with the late, great Westlake. And then get yourself a copy of The Hunter—or any of the Parker novels—and decide whether the mysterious thief looks more like Lee Marvin or Jack Palance for yourself.