Sega Genesis presents The Great Gatsby

Full confession: it's Yoko Ono's birthday. In a Fluxus-inspired riff, we cribbed knowledge of the odd science that follows below first from the Atlantic and then from Drew Grant's piece at Salon. Part of a much bigger trend (we use trend skeptically since this sort of thing—video games, the a-r-t remix—has been around at least since the early days of artist-hackers like Cory Arcangel and SF Moma's 2001 exhibition "ArtCade: Exploring the Relationship Between Video Games and Art"), repurposing new technology (digital coding) in order to transform older technologies (Atari- and Nintendo-inspired video game cartridges) into faux cultural artifacts seems to be all the rage.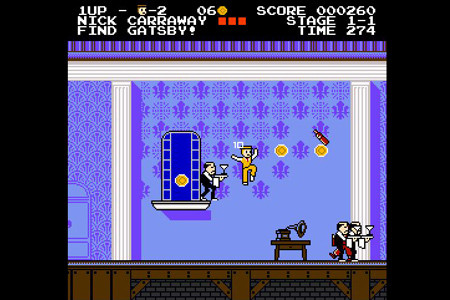 What got us excited? Old school video game adaptations of The Great Gatsby and Waiting for Godot, naturally. As one writer opined, it's a particular type of nerd that feels elated at choosing between the Vladimir and Estragon avatars (was "avatar" part of the terminology from the Frogger years?). But there's a certain euphoria (or better: eunoia) experienced in navigating a pint-sized Nick Carraway through Level 1: Gatsby's Party, even if the adaptation only skims the surface scenery of the book. Why, we wonder, is this?


Edward Castronova pioneered the study of virtual gaming in Synthetic Worlds: The Business and Culture of Online Gaming (interview here), offering perspective on the social culture and synthetic world economics involved. But these games aren't world-creating in the same way; they speak to fans of the literature (as do the game adaptations of Alice in Wonderland, Sherlock Holmes, and others) or those fascinated by the interstices of high-tech/low-tech digital arts. Seemingly driven in part by nostalgia for simplicity and in part by cultural capital, games like The Great Gatsby fall into one of the digital humanities' new great new divides: art meet science meet a time machine.
Thomas Bartscherer and Roderick Coover's new collection Switching Codes: Thinking through Digital Technology in the Humanities and the Arts excavates this complex terrain. Contributors—including Bruno Latour, Charles Bernstein, Alain Liu, and Richard Powers—employ a variety of forms (among them: game design) to consider the precipitous growth of digital information over the past half century has transformed how we think and act in our increasingly mediated age. Switching Codes address the cognitive gap between IT specialists and scholars, both of them utilizing and making sense of technology, while using language and skill sets not necessarily complimentary to each other. In the face of all of this, new criteria emerges.
Just this past Wednesday, the Globe and Mail previewed the Smithsonian Museum of American Art's forthcoming exhibition "The Art of Video Games," noting:
[T]he museum wants to centre the exhibit "on visual effects and the creative use of new technologies." We're not being asked to elect our favourite games, but rather those that were most visually compelling and technologically innovative for their time (the selections have been divvied up into five eras). That means conscientiously selecting between a couple of games like Disney Epic Mickey, which delivered mediocre play but offered up some amazingly authentic interactive versions of 70 year-old cartoons, and Super Mario Galaxy 2, which had great play scenarios but didn't advance the graphical bar much beyond its predecessor, isn't as cut and dry as you might think.
Are video games inherently art? Is a forward-moving technology part of the criteria with which we should evaluate their appeal—and success? And what to make of an odd duck like The Great Gatsby game, with its out-of-date technology and literary underpinning? The Medium was Tedium, certainly. But in this case: maybe the Mediated was Appreciated?