Hopelessly Devoted
In the past few months, Bruce Smith's Devotions has been nominated for the National Book Award (which went to Nikki Finney, for Head Off & Split), the National Book Critics Circle Award (which just last night went to Laura Kasischke, for Space, in Chains), and the Los Angeles Times Book Prize (which will be announced on April 20). One of Smith's previous collections The Other Lover (2000) was a finalist for both the National Book Award (taken home by Lucille Clifton's Blessing the Boats: New and Selected Poems 1988–2000) and the Pulitzer Prize (awarded to Stephen Dunn's Different Hours). Reluctant to turn to idiom ("Always a. . . ."), let's shift to the book in question:
"Write like a lover. Write like you're leaving yourself for another.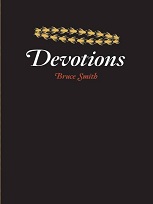 Write like you're de Beauvoir, object and subject. Write
like you must rescue yourself from yourself, become scrupulous
to the body and the rain that floods you with rage and the crude
sublimities: there was a lip print on the plastic glass wrapped
in the misty domestic interior of the room. Write like there's evidence,
there's tenderness, like Paris were the scene of a crime. A lipstick
by the bed, a phone number, a plastic glass with prints. The remote
is toxic. At the Red Roof Inn they couldn't recommend an alternative
to suffering. Like lovers we spoke of short term/long term knowledge—
and the rest in the circle of hell the telephone allows. I want
my piracy, I thought you said. The familiar doesn't travel well."
—from "Devotion: Red Roof Inn"
Phew. Bells and whistles. The list of also-wrotes? Those Pulitizer- and NBCC- and NBA-finalists who came so unnervingly close but just didn't make the cut? What company to be in! Jean Valentine, Franz Wright, Adrienne Rich, John Ashbery, James Merrill, Allen Ginsberg, Robert Creeley, Harryette Mullen. . . .
This isn't a pity party of a post, that's for certain. I comb Google for a mirror image: Bruce Smith and Bruce Springsteen, each eating ice cream; I glean all the disambiguation pages for Bruce Bickford. I read up on the translator Bruce Benderson and wonder why I feel such a pressing need to channel in name only. I stumble on to the story of Bruce Boston, an American speculative fiction writer, who has won the Rhysling Award for speculative poetry a record seven times. Eventually I land on Bruce Broughton, a composer of soundtracks for film and television, and I stay for a while. Broughton composed the score for Silverado (1985), a Lawrence Kasdan-scribed Western that unfortunately opened the same weekend as Back to the Future. The soundtrack was initially released by Geffen Records in 1985; in 2005 (time—it doth age us all), Intrada Records released an expanded, two-disc version of the score. At the Academy Awards twenty years earlier? Broughton lost out to John Barry, the composer for Out of Africa.
Am I searching for sympathy? Really?
"They're Zoloft calm. They're wind in a canyon.
And you feel a cool, don't you?, you feel a childhood fall."
—"Devotion: The Unbidden"
There isn't really cause for concern in balming my own neurasthenia (William James's Americanitis). Devotions is addictive, even if you think Smith's jazz rhythms and transcendentally enjambed masculinities aren't for you ("As much as we wanted to look good,/we were the bullies of our childhood sliding, cleats up at Juan or Bob/with the fury of the psychopath, Ty Cobb (whose mother/blew his father's head off with a shotgun, so forever playing dead)./I like the silent church before the service begins, Emerson said.")
Estas brutal, Mr. Smith. We have our fingers crossed for you.