Adrian Johns, derived from the Latin pirata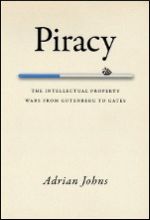 Adrian Johns is having a pretty good series of weeks. Earlier this month, the intellectual property specialist was named a 2012 Guggenheim Fellow. The chair of the Committee on Conceptual and Historical Studies of Science and the Allan Grant Maclear Professor in History at the University of Chicago, Johns plans to use his Guggenheim funding to study the intellectual property defense industry.
Johns is no stranger to prizes. His earlier work The Nature of the Book: Print and Knowledge in the Making won the Leo Gershoy Award of the American Historical Association, the John Ben Snow Prize of the North American Conference on British Studies, the Louis Gottschalk Prize of the American Society for Eighteenth-Century Studies, and the SHARP Prize for the best work on the history of authorship, reading and publishing. Piracy: The Intellectual Property Wars from Gutenberg to Gates, his most recent volume, won the American Society for Information Science and Technology's Book of the Year Award and was a CHOICE Outstanding Academic Title.
Just yesterday, Johns was feted in a ceremony bestowing yet another honor on his work with Piracy, the Gordon J. Laing Prize for best faculty author, editor or translator of a book published in the previous three years that brings the University of Chicago Press the greatest distinction.
A review published in the London Review of Books finesses Johns' redress of the vitally linked histories of piracy and printed matter:
In Adrian Johns' account, intellectual property rights have always been precarious. According to him, the concepts of intellectual property and intellectual piracy arose as delayed responses to the advent of printing and the development of a commercial book trade, around the year 1660, in London. 'To find the origins of intellectual piracy,' he writes,
stand at the main door of St Paul's Cathedral. Facing west, walk away from the Cathedral, heading down Ludgate and toward Fleet Street. After about a hundred yards you come upon a narrow alley … Entering the alley, the din of the traffic quickly fades, and you find yourself in a small courtyard. A doorway at the far corner leads into a building of indeterminate age with a stone façade. You pass along a brief, twisting entranceway and into an elegant antechamber. But then the passage suddenly and dramatically opens out, leading into a vast, formal hall. It is richly decorated with 17th-century panelling and arrayed flags, all illuminated by stained-glass windows portraying Caxton, Shakespeare, Cranmer and Tyndale. You are in Stationers' Hall, the centre of London's old book trade. And here, beyond all the elegant joinery and ceremonial paraphernalia, lies the key to the emergence of piracy. It sits quietly in a modest muniments room. It is a book.
Piracy posits the phenomenon at the center of our attempts to reconcile creativity and commerce—and much of Johns' work seeks to understand this as part of the nature of print culture.
Something tells us he must be on to something. Or maybe we're just looking for innovative intellectuals whose smiles light up a room: