Jennifer Scappettone | | Amelia Rosselli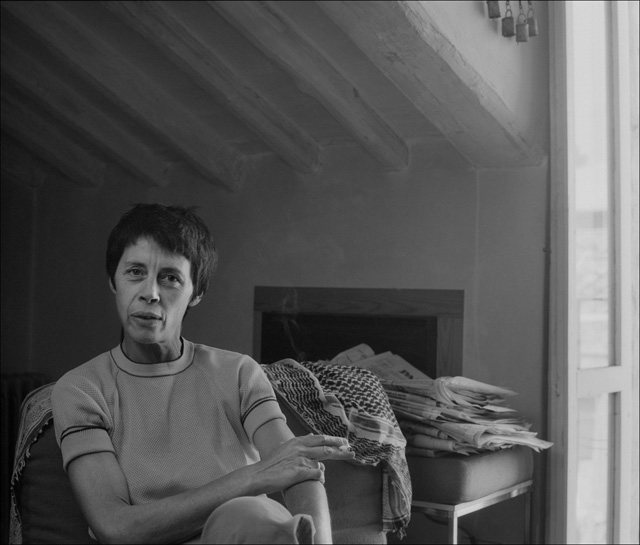 (Image copyright: Dino Ignani)
From Locomotrix: Selected Poetry and Prose of Amelia Rosselli, A Bilingual Edition
Edited and Translated by Jennifer Scappettone
_________________________________________________________________________________________
Da Palermo '63 (1963)
Poesia dedicata a Spatola
Il mare ha delle punte bianche ch'io non conosco e il tempo, che bravo
si dimena bravo nelle mie braccia, corrompo docilmente—
e sottile si lamenta per i dolori al ginocchio a me toccàti.
Senza livore io ti ricordo un immenso giorno di gioia
ma tu dimentichi la vera sapienza. Se la notte è una
veraconda scematura io rivorrei giocare con le belle
dolci signore che t'insegnavano che il dare o il vero, non
è vero.
Sentendo morire la dolce tirannia io ti richiamo
sirena volenterosa—ma il viso disfatto di un chiaro prevedere
altre colpe e docili obbedienze mi promuove cretine
speranze.
Gravi disgrazie sollecitano.
Il vero è una morte intera.
                   ***
From Palermo '63 (1963)
Poem dedicated to Spatola
The sea has white points that I don't know and tempo, so good
it wags good in my embrace, I corrupt sweetly—
and slight it laments the aches at the knee touched to me.
Without spite I remind you of an immense day of joy
but you forget true knowledge. If the night is a
trueful abature I would like again to play with the sweet
belles mister who taught you that giving or the true, is
not true.
Sensing sweet tyranny die I recall you,
eager siren—but the face stripped of a lucid prediction
of other faults and docile submissions promotes idiot
hopes in me.
Grave misfortunes solicit.
The truth is a death entire.
_________________________________________________________________________________
The Academy of American Poets recently announced Jennifer Scappettone as winner of the 2012 Raiziss/de Palchi Book Prize for Locomotrix: Selected Poetry and Prose of Amelia Rosselli, an excerpt of which appears above. The collection is the first to bring together a selection of poetry in both English and Italian (as well as fundamental prose documents, a critical introduction, and notes) by Rosselli, one of the most important postwar European poets—a musician, musicologist, and self-defined "poet of research"—whose trilingual body of work fused the confessional sensibilities and eruditely broken-lyricism of John Berryman with the formal experimentation of Ezra Pound, and a troubadour's flourish that extends from Dante to the French moderns. The $10,000 award is given every other year for the translation into English of a significant work of modern Italian poetry, and Scappettone will accept the award and read from her translations on October 19, 2012, as part of the sixth annual Poets Forum in New York City:
"The virtues of Locomotrix, Jennifer Scappettone's daring new translation of Amelia Rosselli's selected poetry and prose, begin with the title itself, which slyly prepares the reader for the polylinguistic fare (and the self-proclaimed 'infirm mind') that follows. In Scappettone, Rosselli has found an inventive, aesthetically kindred translator, one who rightly chooses 'to startle when Rosselli startles, and not to gloss'—to maintain, that is, rather than tame, the singularities of Rosselli's capacious and difficult work. But the word 'maintain' makes it sound too easy, as if the translator had only to leave well enough alone, when of course what is often required is the invention in English of sympathetic singularities, which Scappettone, a poet herself, provides in abundance. As if that weren't enough, the poems themselves are framed by Scappettone's excellent introduction and by well chosen prose selections and helpful bibliographies and notes. Locomotrix is an exemplary volume."—Geoffrey Brock, from the citation accompanying the prize announcement