RETROSPECTIVE: Our (Un)Adorable Yayoi Kusama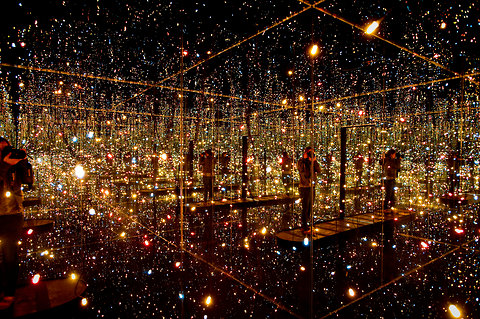 Gabrielle Plucknette/New York Times
The NYT's 6th Floor blog ran a post yesterday by Amy Kellner about the installation of Yayoi Kusama's career-spanning retrospective, which opens this July at the Whitney Museum of American Art. The show, the first to present a hearty selection of  Kusama's work to the West since LACMA's Love Forever: Yayoi Kusama 1958–1968 (1998), was curated by Frances Morris, head of collections at the Tate Britain, where the show originated. Along with some excellent behind-the-scenes shots of "Fireflies on the Water," originally installed for the Whitney's 2004 Biennial and now a part of the Museum's permanent collection, the post included an introduction to Kusama as an "adorable, polka-dot-obsessed Japanese artist."
No one would argue with the obvious presence of dots, minimalist pop-blobs, flickering lights, and the omnipresence of concentric circles in Kusama's oeuvre. But the use of the world "adorable"—in regards to an artist who has openly struggled with psychiatric problems, including obsessive and suicidal thoughts, hallucinations, and the decision to voluntarily commit herself to the Seiwa Hospital for the Mentally Ill, where she has lived since the mid-1970s—seems a bit more problematic. Or is it? Is it problematic to label Kusama, cloaked in art-pop attire, sometimes hippie-robed, other times blending in with the haute-chic female artists of her day—sometimes appearing slight, other times ferocious—adorable? Is it a problem to label anyone whose illness intertwines with their public and private persona—as descriptively as their curiosity-drenched art, seemingly as much and a little a part of them as any other set of atoms triggering their chemical reactions—adorable? I don't know. Maybe the argument is against "adorable" in general, for any artist. Because it strips away the complexity of the person behind the work, and because we catch ourselves in a creator's grand narrative and lose focus on the intricacies and complications of the art itself (and Kusama's installations were nothing if not primed for all kinds of human experience).
The Whitney's official press release calls Kusama "legendary, semi-reclusive, and still vibrant," and a quick Google search adds a strand of adjectives to that short list: prolific, incessant, avant-garde, significant, influential, important, controversial, suffering, celebrated.
Reading Kusama's autobiography Infinity Net might shed some light on the issue of her appearance, and our own tendency to focus on a signature component:
By covering my entire body with polka dots, and then covering the background with polka dots as well, I find self-obliteration. Or I stick polka dots all over a horse standing before a polka-dot background, and the form of the horse disappears, assimilated into the dots. The mass that is "horse" is absorbed into something timeless. And when that happens, I too am obliterated.
So, yes, sensorially: Kusama is dotty. And in terms of word choice, she is worthy of admiration, as evidenced by the gesture of "adorable." But the language she uses to describe herself in Infinity Net mirrors any artist's self-consciousness, not just her own, and reveals as much of her internal complexities, in their plain style, as any appearance-driven adjective cannot:
indecisive, fearful, fantastic, curious. tormented, alive.