From Black Sox to Three-Peats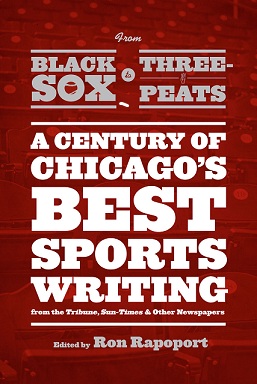 Chicago sportswriting is synonymous with, well, um, as far as I know: dude who had a peg leg; dude who has the same initials as that one guy in the Sega Genesis-era Moonwalker game circa 1990; dudes who did coordinated shuffling (including dude who appeared at Wrestlemania II and was the subject of the Fat Boys' "Chillin' with the Refrigerator"); that one team with the curse; that other team, which once featured Bobby Jenks, who looks like Bobby from King of the Hill; dudes with the sticks that make it impossible to get a beer at the Whirlaway Lounge, assorted evenings October through April; dudes whose team is named after an 1871 domestic disaster; and various other dudes, lady dudes, mimeograph machines, folded and unfolded periodicals, and residual jouissance. Bear down, Bull up or something. Confusing Harry Caray with Andy Rooney many times as a Midwestern pre-adolescent given free range with the remote control.
But seriously: you know who really knows Chicago sportswriting? Ron Rapoport, longtime sports columnist for the Chicago Sun-Times and the Los Angeles Daily News and a sports commentator for National Public Radio's Weekend Edition. Rapoport's most recent edited anthology From Black Sox to Three-Peats: A Century of Chicago's Best Sportswriting from the Tribune, Sun-Times, and Other Newspapers assembles one hundred of the best columns and articles from our local rags to tell the unforgettable, occasionally unaccountable, and incomparable history of Chicago sports. The Tribune recently praised the book as a "flip-page feast for sports fans," and the personnel discussed needs no introduction: "What writers, what characters, what moments!"
Rapoport is coming to town for a whirlwind series of appearances, so stay tuned for spots on NBC Chicago's Weekend Morning News, Rick Kogan's radio show, WBEZ, WLS Radio with Richard Roeper, WGN, Sportstalk Live, Chicago Tonight, and ESPN Radio Chicago.
Want to catch the man in person? Stop by the Billy Goat Tavern (430 N. Michigan Avenue) at 5 PM on Thursday, September 19th, for a reading and signing.
In the meantime, read more about the book here.