New Chicago Short from Cass R. Sunstein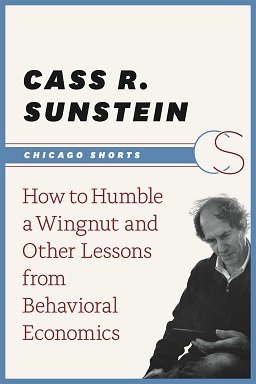 Chicago Shorts offer distinguished selections, including never-before-published material, off-the-radar reads culled from the University of Chicago Press's commanding archive, and the best of our newest books, all priced for impulse buying and presented exclusively in DRM-free e-book format.
With that in mind, we're delighted to announce the debut of our latest Short: How to Humble a Wingnut and Other Lessons from Behavioral Economics by Cass R. Sunstein.
 ***
In
How to Humble a Wingnut
, leading constitutional scholar, behavioral economist, and former Administrator of the White House Office of Information and Regulatory Affairs Cass R. Sunstein examines the unconventional impetuses behind human decision-making. Why it is that people often choose to behave so strangely? Sunstein's incisive commentaries point to recent empirical findings to demonstrate how and why people convince themselves they are right despite evidence to the contrary; fear dangers they are unlikely to encounter; and ignore real risks. Mining developments in recent behavioral studies for tips on everything from holiday shopping and political biases to staying healthy and clear thinking in general, Sunstein nudges his reader towards that rarest of grounds—understanding.
To read more about
How to Humble a Wingnut
, go
here
.
To see the full series of Chicago Shorts, go
here
.