Bernard Harcourt case in the New Yorker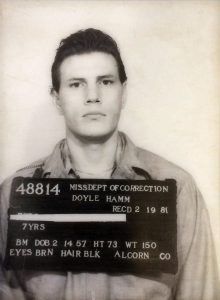 Bernard E. Harcourt has written several books for the University of Chicago Press about issues in law, criminality, and policing that politicize problems around race and social inequality, especially as they complicate more staid academic considerations in sociology and contemporary critical theory. Harcourt is also a lawyer, and as recently profiled by the New Yorker, at the helm of a case decades in the making—a last ditch effort via a possible Supreme Court hearing to commute Doyle Lee Hamm's death sentence into life without parole. Through the Alabama case and its resultant (denied) appeals, which could have been fodder for an Errol Morris documentary (in which Harcourt has represented his client pro bono since 1994 and assembled an archive of "eleven bankers boxes" of evidence), Harcourt has established a relationship with his client that has transcended his own career moves and life changes, and born witness to the dozens of friends Hamm made on death row and subsequently lost to the "Yellow Mama," Alabama's electric chair. The backstory makes for fascinating, albeit urgent, reading: on September 26th, the Supreme Court will decide whether or not to hear Hamm's case, the last resort for Harcourt and his client.
As the New Yorker piece concludes:
"He did a good job, regardless of what happens," Hamm said of Harcourt. "If I hadn't had Bernard, I believe I would have been executed. Yep, I do believe that." He pauses. "I believe," he said, "I would've been executed ten years ago." The question of what will happen next—whether Hamm will be allowed to die of natural causes in prison, or will be tied down to a table one day and injected with deadly doses of drugs—lingers on the edge of every conversation he has with his attorney. One afternoon in late August, their phone call ended with Harcourt saying, "Take care, Doyle. Talk to you soon." The hope of both men is that their calls will always end this way, that there will be never be a need to say goodbye.
To read the New Yorker article in full, click here.
To read more about works by Harcourt published by the University of Chicago Press, click here.