On gentrification in the Cappuccino City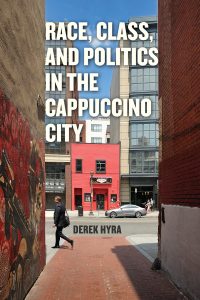 Derek S. Hyra's Race, Class, and Politics in the Cappuccino City, an ethnography that uncovers the shifting demographics of Washington, DC's Shaw/U Street neighborhood—a "gilded ghetto" under pressure of displacement from late-capitalist gentrification by an influx of young, white, relatively wealthy, and/or gay professionals—publishes this April. In the meantime, here's a teaser—an episode from NPR's "Around the Nation" focused on Shaw's gentrification, through the eyes of its residents—that leans on Hyra's research.
***
For as much good as Valentine sees happening in his neighborhood, he recognizes there are real lapses when it comes to how people from different backgrounds interact with each other. The neighborhood's changing demographics have created a space where identities such as race, age and class are constantly brushing up against each other. It's a tension Shaw is still dealing with years after "gentrification" began.
"Until I sit down and talk to you, we're not going to get anywhere," he said. "I can say good morning to you, but unless I sit down and say, 'Where are you from?' until I let you into my comfort zone and you're not afraid of what happened once upon a time here in Shaw, there's not going to be that cultural assimilation."
Derek Hyra, an associate professor at American University who has studied gentrification in Shaw, sees building bridges as at least partly a question of policy.
Hyra suggests refining the Community Development Block Grant — federal funding allocated to cities each year for community development work, which fund projects such as affordable housing but can also go toward improvements like sidewalks or parking. He'd like to see some of that money support community gardens, arts programs or festivals — or whatever mutual interest the community identifies.
"I see very few people who look like me that will be here in the next five or 10 years," he said.
***
To read more about Race, Class, and Politics in the Cappuccino City, click here.