Chip Colwell on the Native American Graves Protection and Repatriation Act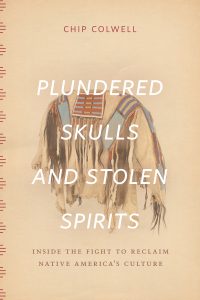 Chip Colwell, author of Plundered Skulls and Stolen Spirits: Inside the Fight to Reclaim Native America's Culture, recently penned an op-ed for the Denver Post on the stakes surrounding NAGPRA legislation; an excerpt follows below.
***
When Congress passed NAGPRA, Colorado museums, like many across the country, struggled to grapple with the law's implications. How much money would it cost to comply with the law's mandates to inventory collections and send notices to, and consult with, tribes? Would Native Americans claim everything as sacred? What criteria should be used to evaluate claims? Would museums become empty shells?
The 1990s was a learning period for both museum and tribal officials. But soon all parties were benefiting. As David Bailey, a curator at the Museum of Western Colorado, once explained after returning a vest and dress to the Northern Ute tribe, important pieces left the museum but the process built new relationships. He explained that instead of fighting the claim he "would rather have a dialogue and exchange with living Indians to gain their respect and insight into our collections."
By 2012, of $31 million allocated in federal NAGPRA grants, Colorado museums had secured more than 16 percent of it. Museums ranging from those on the campuses of Fort Lewis College to the University of Denver had engaged in dozens of deeply meaningful consultations. The University of Colorado Museum of Natural History, after years of unrelenting effort, likely became the first major museum in the United States to have returned all of the Native American human remains in its collection. My colleagues and I at the Denver Museum of Nature & Science have led innovative consultations with hundreds of tribes on human remains that lack enough documentation to culturally affiliate them with specific tribes yet deserve the respect of a burial.
Perhaps the state's brightest highlight is the collaboration among the Colorado Commission on Indian Affairs, History Colorado, and Colorado's two Ute tribes, which started working together in 1999. One remarkable achievement was their exhaustive effort to create a protocol to deal with newly discovered remains that are culturally unidentifiable; the group held 130 consultations over four years with 47 tribes that are historically tied to Colorado.
Challenges remain for Colorado, and there is, of course, room for improvement. But what makes the state unique is how so many museums have embraced not just the letter of the law but the spirit of it, focusing on the law's prospect for justice and healing. As Roger Echo-Hawk noted some years ago after the Denver Art Museum repatriated a sacred sash to the Blood Nation, "DAM lost a valued object from its collections. The meaning to the Blood people, however, was that a living, long-lost sash returned into the care of the community. In dreams of goodwill, the outcome of justice offers a special blessing to us all. In human terms, this is the significance of NAGPRA."
***
To read the op-ed in full, click here.
To read more about Plundered Skulls and Sacred Spirits, click here.