Happy 200th Birthday, Henry David Thoreau!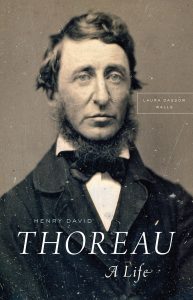 Henry David Thoreau was born on July 12, 1817. Laura Dassow Walls explains the trajectory of his life, which shaped his thinking about the world in every way:
He was born on a colonial-era farm into a subsistence economy based on agriculture, on land that had sustained a stable Anglo-American community for two centuries and, before that, Native American communities for eleven thousand years. People had been shaping Thoreau's landscape since the melting of the glaciers. By the time he died, in 1862, the Industrial Revolution had reshaped his world: the railroad transformed Concord from a local economy of small farms and artisanal industries to a suburban node on a global network of industrial farms and factories. His beloved woods had been cleared away, and the rural rivers he sailed in his youth powered cotton mills. In 1843, the railroad cut right across a corner of Walden Pond, but in 1845 Thoreau built his house there anyway, to confront the railroad as part of his reality. By the time he left Walden, at least twenty passenger and freight trains screeched past his house daily. His response was to call on his neighbors to "simplify, simplify."
There could be no greater honor on a bicentennial than for an author's work to remain wholly alive, important, part of the culture. That's where Thoreau finds himself today, as evidenced by the widespread enthusiasm that has greeted Walls's new biography. And the praise has been just as strong for Walls's sensitive, perceptive treatment of Thoreau's life and thought. A few highlights:
The New York Times Book Review: "More than 50 years have passed since the publication of the last major biography of the iconic American author, naturalist, philosopher and social activist Henry David Thoreau, and this superb new book could not have come at a better time. . . . Exuberant. . . . Paints a moving portrait of a brilliant, complex man. . . . One of the many pleasures of Walls's book is how it transports us back to America in the first half of the 19th century."
The Washington Post: "I have been reading Henry David Thoreau and reading about him for 40 years; I've written a book about him myself. Yet often I responded to Laura Dassow Walls's compelling narrative with mutterings such as 'I never knew that' and 'I hadn't thought of it that way.' I found myself caught up in these New England lives all over again.On a foundation of rigorous scholarship, Walls, a professor of English at Notre Dame, resurrects Thoreau's life with a novelist's sympathy and pacing. Most of her previous books are about either the American Transcendentalists or the explorer and naturalist Alexander von Humboldt, and her broad grasp of the era's scientific issues integrates Thoreau's dawning ecological conscience into a better-understood context than most writers on the topic can provide. . . . Walls builds up John's character scene by scene, and when he dies, I felt deeply sad despite knowing this story well. . . . Walls is too well versed in Thoreau's life to accept his own often contradictory pronouncements or his semi-fictional first-person narrator as necessarily factual. She teases out nuances and implications, but without unfounded speculation. And often she sums up a trait with a sly image."
The Dallas Morning News: "Thoreau gets a biography worth waiting for. . . . Walls has rendered a great service to American letters."
The Boston Globe: "Ample, comprehensive, wholly sympathetic."
The Seattle Times: "By blending warm regard for her subject with intensive scholarship, she reintroduces us to a fully dimensional Thoreau. . . .  Walls has wrangled a vast amount of material, a cast of strong characters, and an era of dramatic flux to establish a flowing and highly enjoyable narrative. Time and again she produces the judicious quotation, the discerning observation, or the apt detail. Not only does the biographer capture the breadth and depth of Thoreau's relations and work, she leaves us tantalized, wanting more."
The Chicago Tribune:  "Remarkable. . . . Constructs a rounder and more complex Thoreau than other biographies have achieved."
The Times Literary Supplement: "Excellent. . . .  Thoreau's many sides will never be contained in a single volume. But Walls earns her keep, digging into Thoreau's aphoristic letters and journals, finding acute reflections by his contemporaries, and drawing a wonderfully brisk and satisfying portrait. . . .  These books, especially the capacious new Life by Laura Dassow Walls, only add to our sense of his stature and, in useful ways, complicate our understanding of his ideas by putting him in the necessary context of his own place and time, the parameters he valued most in the course of his relatively short but vivid life."
The Chronicle of Higher Education:  "I've always been slightly skeptical of biography doorstops. . . . I read the book in two sittings. It will not be used as a doorstop—ever. . . .  Walls, scouring his published and unpublished writings, gives her readers hundreds of these fleeting chances to catch sight of a beautifully untamed but distinctly American existence. . . . Walls comes as close as any biographer has to giving us the wild Thoreau—disorienting and bewildering."
The Nation: "An engaging, sympathetic, and subtly learned biography that mounts a strong case for Thoreau's importance. . . .  Thoreau's political engagement isn't exactly news, but Walls foregrounds it vividly. . . . The details are sometimes wonderful. . . .  Walls's Thoreau is truly a man for all seasons, a person who, in many ways, is a 21st-century liberal's idea of our best self: pro-­environmental, antiracist, anti-imperialist, feminist, reformist, spiritual but not religious. It is extraordinary how much there was in Thoreau to support this interpretation, and part of the power of Walls's book is how she traces these liberal and humane preoccupations to the radicalism of his family and of Concord's intellectual life."
The American Scientist: "Walls focuses her biography on Thoreau as a writer, an approach that allows her to engage nimbly with her subject's many facets, and Thoreau the naturalist features prominently. Beautifully written, this is a substantial volume in which every page feels essential. You won't want to put it down."
The Week: "There are many good Thoreau biographies; this one, due in July, is outstanding. . . . This sympathetic and exhaustive biography illuminates the man and his times."
Publishers Weekly: "In this definitive biography, the many facets of Thoreau are captured with grace and scholarly rigor by English professor Walls. . . .  The wonder is that, given her book's richness, Walls still leaves the reader eager to read Thoreau. Her scholarly blockbuster is an awesome achievement, a merger of comprehensiveness in content with pleasure in reading."
Kirkus:  "A superbly researched and written literary portrait that broadens our understanding of the great American writer and pre-eminent naturalist who has too long been regarded as a self-righteous scold. . . . Magnificent. . . . Walls effectively humanizes her subject. . . . Thoreau has inspired so many esteemed biographies that it's difficult to claim any new one as definitive. However, Walls delivers a sympathetic and honest portrait that fully captures the private and public life of this singular American figure."
If this has whetted your appetite, head over to Lit Hub and Humanities magazine to read excerpts. When you're done, your local bookstore will be waiting for you with a stack of copies.
Happy birthday, HDT!