A Look Inside "Matisse: The Books" with Louise Rogers Lalaurie
Louise Rogers Lalaurie's Matisse: The Books is a lavishly illustrated exploration of Henri Matisse's livres d'artiste, or "artist's books," that brings new clarity to the artist's life and work. Lalaurie recently visited the retrospective at the Centre Pompidou in Paris in honor of Matisse's 150th birthday and here shares her experience of the extraordinary works on display.
Art lovers everywhere know the feeling: the thrill of an eagerly anticipated exhibition or permanent collection, as you enter and glance around, spotting shapes, colors, and motifs you may never have met in person but know from photographs, or last saw years ago in another place, or have never seen before all together in the same room. It's like walking into a party—a distant memory in the weird world of 2020, but one that springs to mind as I follow Marine Prévot, press officer at the Centre Pompidou Paris, from the staff entrance opposite the Tinguely/Saint-Phalle fountain on Place Stravinsky, through a backstage labyrinth of wooden crates. We emerge into Matisse, comme un roman ("Matisse, like a novel"), the 150th birthday retrospective that was planned for spring of this year and postponed until now due to the COVID-19 pandemic.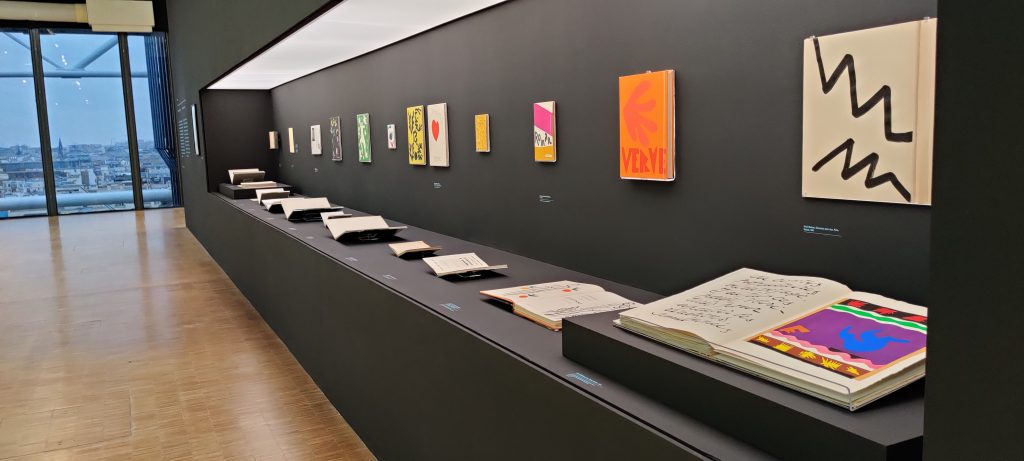 Gathered in a space with magnificent views across Paris, the star attractions from France's Musée National d'Art Moderne beckon––sculptures, works on paper, and of course, the paintings: the speckled rainbow of Luxe, calme et volupté (1904); the powdery, abstract blue, grey, and green of the French Window at Collioure (1914), open to a prospect of unknowable, velvet black; the Portrait of Greta Prozor (1916), pensive and muted like her dusky backdrop, black felt hat, and navy dress.
Here are the reclining Odalisque (1921) in carnal red harem pants, amid an orchestrated riot of pattern and colour; the serene features and trailing fingers of the sleeper in The Dream (1935), flesh pink on a sheet of ultramarine blue. Here, too, the billowing white sleeves and graphic embroidery of the Romanian Blouse (1940), dazzling against the model's blue skirt and red backdrop. And the black-cloaked, green-faced mandolin player in the monumental cut paper composition the Sorrows of the King (1952), framed in a swirl of autumn leaves.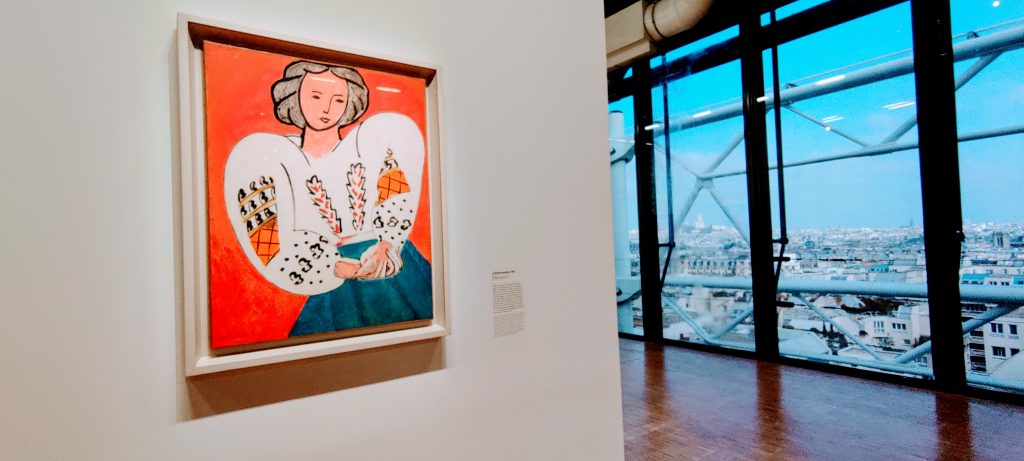 A-listers from elsewhere include Matisse's green-shaded self-portrait of 1906, from the National Gallery of Denmark; his daughter Marguerite, with her pink cheeks, black choker, and determined stare, in a portrait from the personal collection of Pablo Picasso (1907); and the multi-layered Interior with Aubergines (1911) from the Musée de Grenoble, a visual puzzle of patterned wallpaper, textiles, reflections, and views through an open door and window, brilliantly displayed and interpreted in an interior space all its own.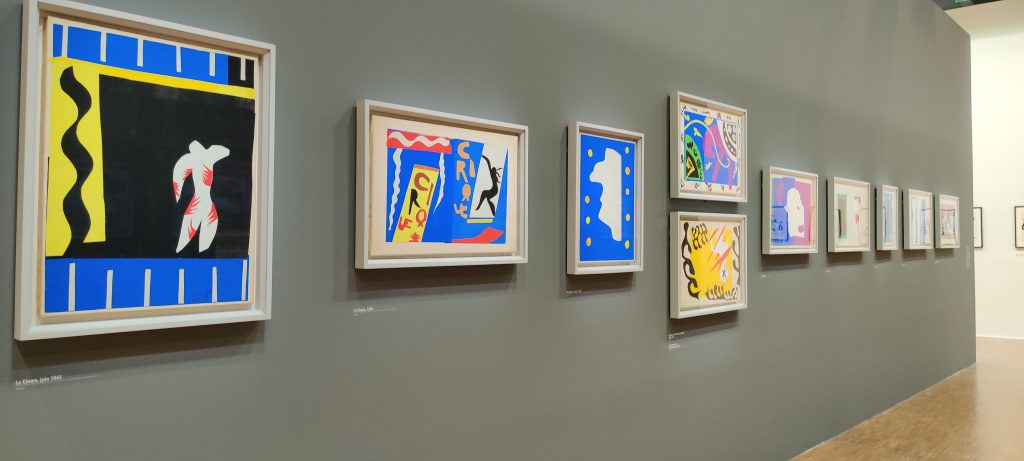 Six decades of work, each a new chapter in the story of art. Where to Begin? The title of (chronologically) the first space in the show acknowledges our disarray.
For me, the answer is simple—I'm here for the books. My fascination with Matisse's stunning but little-known livres d'artiste is shared by the exhibition's curator Aurélie Verdier, whose survey features central showcases of letters, documents, books, and periodicals. The vitrines present Matisse's illustrated settings of the poems of Stéphane Mallarmé (1932); or Pasiphaé (1944), a Greek-style play by his contemporary Henry de Montherlant; his interleaved drawings for an American edition of James Joyce's Ulysses (1935); and his portfolio-book Dessins: Thèmes et Variations (1943), with its superb introduction by the (then) banned Communist poet Louis Aragon. (The retrospective takes its name from Aragon's richly illustrated critical/biographical anthology of 1971, a first edition of which is displayed with original layouts by its designer, Roger Parry.) Jazz (1947), with vivid evocations of circus razzle dazzle and tropical lagoons, is the overture to Matisse's paper cut-outs.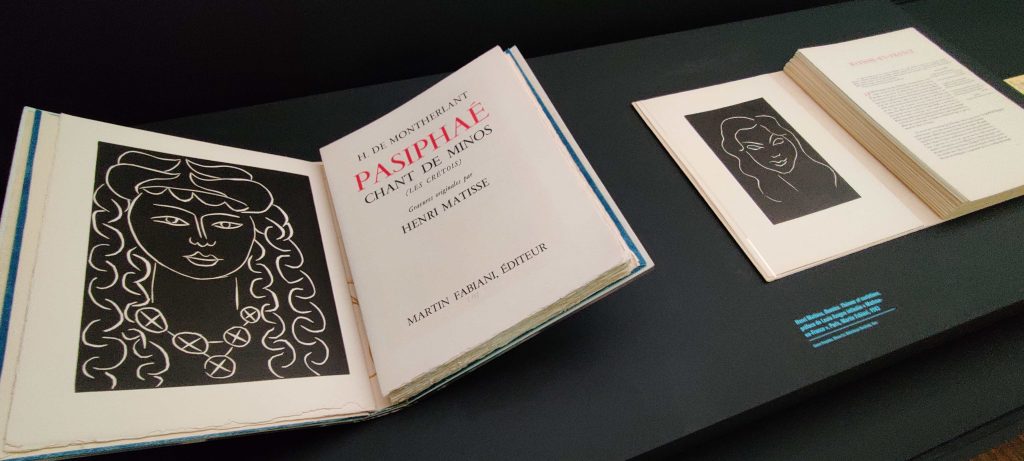 Each book lies open at a single, tantalizing page, but two emerge from the vitrines onto the walls. The cut-out collages for Jazz are displayed in full (though without Matisse's accompanying text), and two sets of original drawings for Dessins: Thèmes et Variations hang in sequence against the glass end wall—just as they did in Matisse's wartime studio apartment, with its panorama of Nice.
Two of the seventeen charcoal "theme" drawings are present, with all their ink and pencil "variations": delicate still lifes of foliage and natural forms, each a miracle of gestural, dancing line. Matisse gifted the originals to various museums, but his companion Lydia Delektorskaya regretted that few ever displayed the sets of drawings as intended ("they get out a drawing here, a drawing there," she wrote in her 1996 memoir Contre Vents et Marées). Curator Aurélie Verdier's inspired hanging of two complete themes, from the Musée de Grenoble, rights the wrong to magnificent effect.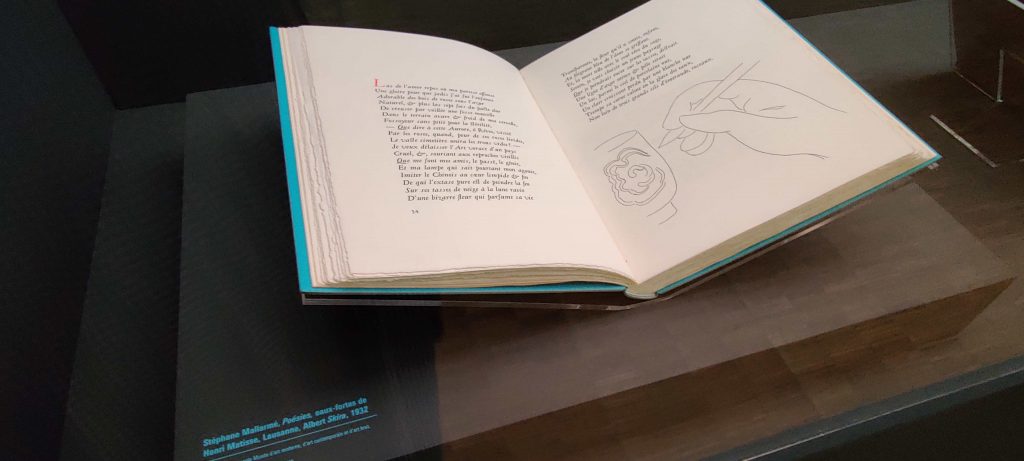 Matisse made his books over a period of eighteen years, from the early 1930s to the aftermath of World War II. Apart from the Poésies de Stéphane Mallarmé, all are the product of a period of confinement enforced by the war and his recovery from life-saving surgery in 1940. Captured on their pages in etchings, lithographs, and linocuts, the intimate act of drawing was "one of the greatest efforts of my life," as Matisse wrote to Marguerite in 1942, "and one of the reasons why I determined to continue. . . ." In 2020, images of Matisse at work in bed amid his jungle of houseplants and caged birds have been a frequent icon of lockdown on social media. The books' star billing as part of this superb retrospective seems fitting indeed.
© Louise Rogers Lalaurie 2020
---
Louise Rogers Lalaurie is a writer and translator based between the Seine Valley, near Paris, and the UK. Her published translations include more than thirty nonfiction titles covering the fine and decorative arts. She translates for leading art institutions including the Louvre, the Centre Pompidou Paris and Metz, and L'Institut national d'histoire de l'art.
Matisse: The Books is available now. Find it on our website or at your favorite bookseller.