An Earth Day Reading List
First observed in 1970, Earth Day has grown into an annual, April 22 celebration of the natural world—and the importance of humanity's role in protecting it. As we mark Earth Day 2021, read on for ten recommended books that are sure to inspire thought, awe, and action.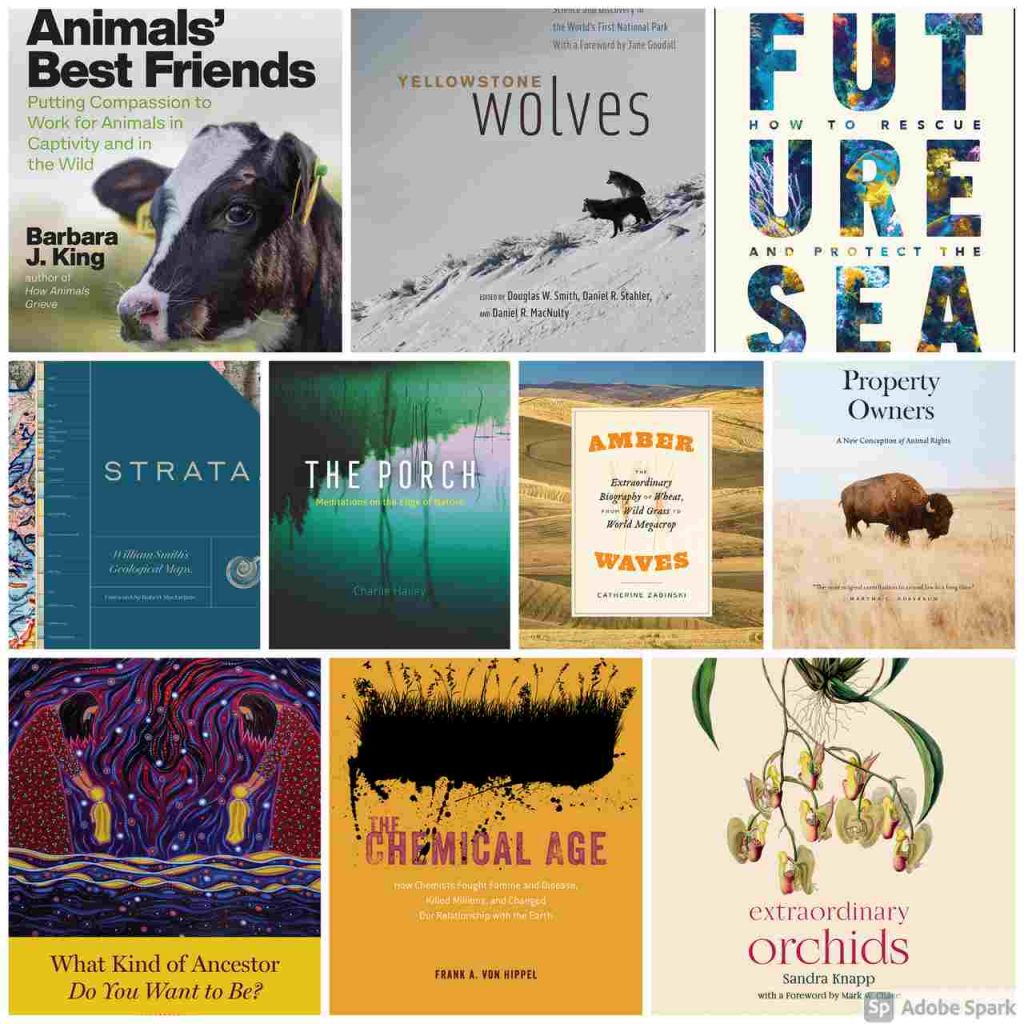 Barbara J. King's Animals' Best Friends: Putting Compassion to Work for Animals in Captivity and in the Wild
"King's Animals' Best Friends is the most comprehensive exploration I've read of the complex relationship between the human and nonhuman, full of great insights and practical information."—Jeff VanderMeer, New York Times Book Review, "By the Book"
Charley Hailey's The Porch: Meditations on the Edge of Nature
"Hailey bears daily witness to the subtle vibrations of the natural world that well up from below, drift down from above, or move across his screened porch in the form of air, sound, light, weather, or wing beats. With this book, he fulfills a fundamental requirement of morality—paying attention."—Robert Pogue Harrison, author of Juvenescence
Sandra Knapp's Extraordinary Orchids
"In this captivating overview, Knapp covers the biology of both terrestrial and epiphytic (tree-dwelling) orchids and explains how epiphytes are adapted to living in trees, even using a special form of photosynthesis. . . . Orchid fanciers will relish the gorgeous color plates; readers new to orchids will appreciate the information on orchid biology, culture, and history."—Library Journal
John Hausdoerffer, Brooke Parry Hecht, Melissa K. Nelson, and Katherine Kassouf Cummings's What Kind of Ancestor Do You Want to Be?
"Captures the deep dialogue, continuity, and resonance Indigenous peoples feel and espouse for ancestors, ourselves, our children—with a view for the now and for our very uncertain future. And yet, its audience is at once Indigenous and Universal. Weaving poetry, narrative, interview, essay, and spirit, it is a unique, landmark tapestry. Utterly timely and profoundly urgent."—Gregory Cajete, author of Native Science: Natural Laws of Interdependence
Karen Bradshaw's Wildlife as Property Owners
"In our time of rapidly shrinking animal habitats and threatened biodiversity, we urgently need new ideas. Bradshaw has written a bold, exhilarating book that mines the traditional concepts of property law for new proposals about how humans can contribute to ethically defensible coexistence. This is the most original contribution to animal law in a long time."—Martha C. Nussbaum, Law School and Philosophy Department, The University of Chicago
Douglas W. Smith, Daniel R. Stahler, and Daniel R. MacNulty's Yellowstone Wolves: Science and Discovery in the World's First National Park
"Part scientific tome, part rallying cry against humans' impulse to interfere with the natural world, Yellowstone Wolves is a powerful testament to what happens when 'people unite to give Mother Nature a chance,' as Jane Goodall puts it in her foreword to the book."—Erin Blakemore, Washington Post
The Oxford University Museum of Natural History's Strata: William Smith's Geological Maps
"Defiant, like an exuberant fireworks display in dark times. . . . As Strata peels back layers of history and ideas as well as rock, many readers will stand, as Smith did, in awe at the worlds below, the body of Earth itself."—Jenny Uglow, New York Review of Books
Deborah Rowan Wright's Future Sea: How to Rescue and Protect the World's Oceans
"Our ocean life-support system continues to buckle under human pressures. We have been approaching marine conservation backward, Rowan Wright argues at the outset of her new book, Future Sea. Instead of regulating individual fisheries or putting boundaries around select areas of the ocean, we need to protect the whole thing."–Mary Ellen Hannibal, Science
Frank A. von Hippel's The Chemical Age: How Chemists Fought Famine and Disease, Killed Millions, and Changed Our Relationship with the Earth
"The story of Fritz Haber's work to feed humanity on the one hand and gas it on the other lies at the center of The Chemical Age. . . . Von Hippel is interested in the ways people have solved problems with chemicals and, in the process, created new problems."—Elizabeth Kolbert, New York Review of Books
Catherine Zabinski's Amber Waves: The Extraordinary Biography of Wheat, from Wild Grass to World Megacrop
"Zabinksi is a reliably optimistic guide, pointing us toward a hopeful food future. 'As a species,' she observes, 'we have a stunning capacity for creativity and problem solving. Imagine if we focused all that capacity on optimizing agricultural production in the most environmentally sustainable way.' It's a towering opportunity for such a tiny, humble seed—but one that seems tantalizingly close to being within our grasp."—Forrest Pritchard, Wall Street Journal
---
All of these books are available on our website or from your favorite bookseller.