Five Questions with Ross A. Slotten, MD, author of "Plague Years"
June 2021 marks a grimly significant anniversary: forty years ago this month, the CDC reported the first US cases of the disease that would come to be known as AIDS. Ross A. Slotten, MD—a Chicago-based family practitioner—has been deeply involved with the fight against HIV/AIDS since the beginning of his medical career in the 1980s. In Plague Years: A Doctor's Journey through the AIDS Crisis—praised by Nature as a "powerful, humane, and stylish memoir"—Slotten provides an intimate yet comprehensive view of the disease's spread alongside heartfelt portraits of his patients and his own conflicted feelings as a medical professional, drawn from more than thirty years of personal notebooks. We asked Ross a few questions about the book.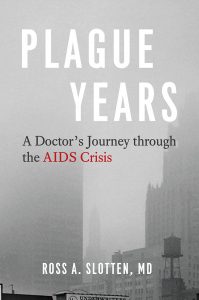 The acknowledgments page for Plague Years points out that this book emerged from a memoir writing course at StoryStudio Chicago. How is the finished book different from your initial vision for it, and is there anything from earlier drafts that you were sad to have to cut from the final version?
Initially, I intended to write something more academic. When I showed an early version of the book to an editor of the Journal of the American Medical Association, she thought that a memoir would be a more effective way to tell my story. What emerged from the memoir course at StoryStudio was something much more personal. I'm a shy person, and to reveal so much about myself was scary at first. But the memoir form made the story powerful and, I think, more interesting to a reader. I'm not sad about anything left out from earlier versions. Those versions were top-heavy in one direction or the other. The final version is more balanced between the personal and the historic.
Were there any memoirs or other texts that helped guide you during the writing of Plague Years?
I read a lot of memoirs while working on the book. I wanted to know what made certain memoirs rise above the crowd. One year, Dwight Garner, the New York Times book critic, reviewed some of his favorite memoirs, and on his recommendation, I read a number of them, like On Fire, by Larry Brown; With the Old Breed, by E.B. Sledge; and Minor Characters, by Joyce Johnson. All three of these books are completely different from what I churned out—Brown was a firefighter; Breed wrote about his experiences in the Pacific during WWII; Johnson dated Jack Kerouac and hung out with beatniks for a while. These books taught me how to tell a story. I also read two memoirs by the British neurosurgeon Henry Marsh, whose subject matter is closer to mine. The ending of his first memoir, Do No Harm, inspired the ending to my book. Another author I enjoyed is Patti Smith, mainly for her luminous writing.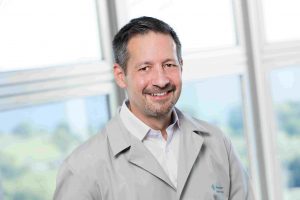 What do you most hope readers take away from the book?
I like to think of this book as analogous to a Holocaust memoir. We should never forget how terrible a disease HIV/AIDS can be if left untreated. Untreated AIDS not only kills you, it ravages you, sometimes disfiguring you, before you die. It's generally a slow, often painful death. Younger people did not live through this experience, yet they should know about it because the AIDS epidemic is part of our collective history, something that changed our world. The unintended message of the book is that we found our way through AIDS, even though we haven't eradicated it. We are finding our way through the COVID pandemic. When the book came out last summer, in the midst of another pandemic, we couldn't see how COVID might end.
Moving on to your professional life as a family practitioner specializing in the treatment of people with HIV/AIDS: How has the pandemic affected your medical practice, and the communities and patients you serve?
HIV/AIDS transformed me personally and professionally. It's occupied my entire professional career. I was trained as a primary care doctor, not an infectious disease specialist. Family practitioners are generalists, Jacks-of-all-trades but masters-of-none. I became an unintended master. As terrible as the early years of my practice were, I'm proud of the work that I did and honored that I earned the trust of my patients, even those who didn't survive.
Do you have any predictions for the future of treatment for people living with HIV/AIDS?
HIV/AIDS is here to stay, at least for the foreseeable future. It's a venereal disease and we've never eradicated a sexually transmitted infection. If we're lucky, we'll have a vaccine and, if so, perhaps we can conquer HIV/AIDS. So far, no vaccine has successfully prevented HIV infection. More likely, we may find a way to cure HIV/AIDS, through some as yet undiscovered technology. Otherwise, it will be a chronic infection, easy to suppress but requiring lifelong therapy. Most important, people with HIV can live long, productive lives. My oldest patient with HIV is almost 91 years old and I have several in their 80s. I find that absolutely astonishing. Oddly, it's better to have HIV than diabetes, although I wish neither malady existed.
Plague Years is available now from our website and your favorite bookseller.