Read an Excerpt from "The Hidden Universe: Adventures in Biodiversity" by Alexandre Antonelli
We are now living in an environmental emergency. As climate change, habitat loss, and other threats have placed almost one-fifth of all species on Earth at risk of extinction in the coming decades, a deeper understanding of biodiversity—the rich variety of all life on Earth—has never been more important. The Hidden Universe shows readers what's at stake in the fight to protect and restore biodiversity, but also what can and should be done now to protect our planet and ourselves for the future. Alexandre Antonelli is our ideal guide, offering recommendations for large-scale political changes, as well as smaller, practical steps that readers can implement in their own lives and homes. 
Read on for an excerpt from The Hidden Universe: Adventures in Biodiversity.
---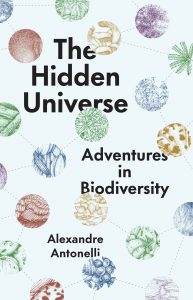 WHAT CAN WE DO?
"If you think you are too small to make a difference, you haven't spent the night with a mosquito," says an African proverb. The threats facing the world's biodiversity may seem daunting, but we can all play a critical role, which combined will lead to massive positive change.
There isn't a single, one-size-fits-all way for individuals to contribute. We all have different roles in our societies, personal networks, job situations, and economic capabilities. While some people own gardens or land, and have a direct influence on the species inhabiting them, many others live in flats with a balcony at most. If this is you, however, you are still able to make a similar—or even a bigger—difference through your consumer choices and actions. I wish I could say that there's no point in feeling bad about not doing much or enough, and that any action is better than no action. But the truth is that the only way to stop and reverse the loss of the world's incredible biodiversity is for each of us to change our lifestyle radically and substantially, and to do that now.
The great news is that if each of us does substantially reduce our environmental footprint, and we influence others to do the same, the combined effect will be transformational. Your actions, values, and words can inspire and multiply, not least by publicly supporting positive actions and behaviors from others. In addition, there are lots of win-wins, and very few sacrifices: what is good for biodiversity and for the climate is nearly always also good for our health and wellbeing and our pocket.
➤ Influence your workplace.
As an employee or employer, your potential to influence change can have a huge impact. Check that your workplace has a comprehensive and credible sustainability strategy, and that it is being de facto implemented. If not, find ways to make it happen—talk to the right people, or do it yourself. Companies often have opportunities to make substantial changes to reduce their environmental footprint. Encourage your employer to join the race to net zero and take all possible steps to become climate positive on a rapid and science-based emissions reduction pathway. Employees have a very important voice, and employers should seek to upskill and empower their staff to understand the environmental impacts of their work, for example by providing training in carbon literacy and sustainable procurement. It's important to recognize that offsetting carbon emissions isn't a replacement for absolute reductions, and indiscriminately buying into certain carbon schemes could have a negative impact on biodiversity. Particular areas to consider are the purchasing of goods and services; the ability to repair, reuse and store equipment and resources; business travel policies; workplace food and drink; the construction of new buildings and refurbishment of old ones; enabling low-carbon commuting choices; and transparent reporting of company impacts.
➤ Ask the critical questions.
"Where does this product come from?" "How do you know the information on this label is true?" "What does this ingredient mean?" The more pressure we put on the companies selling us services and goods that we find in shops and supermarkets, the more likely it will be that these companies will stop selling the products that damage the environment, or at least they will provide customers with transparent information to allow for informed decisions. For instance, far too many products have the cryptic ingredient "vegetable oil" on their label, which is nearly always palm oil – a commodity that is the key driver of deforestation in places like Indonesia and Malaysia. Besides clearer reporting of a product's components, our requests will encourage companies to increase the transparency of supply chains, and to provide evidence-based assessments of their environmental and social impact.
Similar questions and requests can be made to the manifold organizations we interact with: our child's school, our choir, church, sports center, entertainment park, concert hall, theatre, and more. And don't be shy to take it a step further—writing to your local newspaper, phoning into radio programs, joining peaceful protests, setting up (or at least signing) petitions to reverse bad government decisions that may negatively affect biodiversity. The more we speak up, the easier and less awkward it'll feel to all of us, and the faster we'll change society.
➤ Vote strategically.
Recent years have seen multiple examples of world leaders paying lip service to environmental issues. Even worse, some have actively denied climate change and made decisions that counter green pathways to economic development. Policymakers around the world, at various levels—presidents and prime ministers, governors, and mayors—can all have a profound effect on biodiversity. They can strengthen or weaken environmental legislation and its enforcement, approve or deny logging concessions, increase or decrease taxes on carbon emissions, ban environmentally damaging commodities, and so much more. They decide on public spending and regulate the activities of public bodies, such as the military—which in the United Kingdom alone has a carbon footprint greater than that of the 60 countries with the lowest emissions combined. So next time there's an election, make sure to choose very carefully to elect someone who shares your views on the importance of nature and biodiversity.
➤ Donate money.
We all pay taxes, but the way governments use them is unfortunately nowhere near sufficient to halt biodiversity loss and combat climate change around the world, particularly in low-income biodiverse countries. Luckily, there are many organizations doing incredible work on the ground, such as helping local communities to develop environmentally sustainable income sources, training and paying people to prevent illegal logging and hunting in protected areas, promoting environmental education among children, and much more.
Most people in high-income countries should be able to give away 1 percent of their monthly income to a cause they support, and even a 5 percent contribution may go largely unnoticed. You could also donate to help compensate for the emissions of a particular action, such as a necessary flight. Donating to a voluntary offsetting initiative can support the restoration of nature, bringing tangible benefits to both climate and biodiversity (although this doesn't mean we can keep emitting carbon as usual). Finding the right initiative isn't always easy, but as a principle, if you are supporting sustainable development, such as renewable power installations in developing countries, or the protection or restoration of natural habitats, such as rainforest, mangroves, sea-grass beds, or peatland, by an organization or charity with the necessary expertise, you will be making a positive difference.
➤ Record species sightings.
A major prerequisite to protecting biodiversity is to understand where each species lives. Otherwise, building the next factory may destroy an entire population of a rare salamander, or kill a plant previously unknown to science. As our climate changes and habitats are modified, species reach new areas and disappear from others. Fortunately, it's never been so easy to help the global effort of mapping the world's biodiversity and how it's changing over time. If you own a smartphone, you can download an app called iNaturalist and start logging your sightings straight away. You don't even need to know what species you are photographing, as the software will do a good job in matching your photo with millions of others, using artificial intelligence, and the user community can help verify the identification. This is a really fun activity to do with friends and family, be it around your house or during hikes in nature and travels; you'll soon learn to recognize lots of species with minimal effort. Millions of species observations have already been made by a large community of people, but many more are needed: all our sightings matter.
➤ Stay curious.
If you've read this far, you now know more about biodiversity, its values, threats, and solutions than the vast majority of people. But don't stop here. If there are particular aspects that appeal to you—perhaps you'd like to learn more about a certain group of species, or how to support biodiversity action in your community, or become a biodiversity scientist yourself—go ahead! The world is in desperate need of advocates for nature, and change starts with you: you can really make a difference.
---
Alexandre Antonelli is director of science of the Royal Botanic Gardens, Kew. A botanist by training, he is an award-winning professor of Biodiversity at the University of Gothenburg in Sweden, a visiting professor at the University of Oxford, founder of the Gothenburg Global Biodiversity Centre, and one of the world's most cited scientists.
The Hidden Universe is available now from our website and your favorite bookseller.