Review: Dürrenmatt, Selected Writings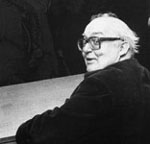 Last week Alberto Manguel—whose own work as a translator and editor makes him quite a qualified critic—wrote a review for the Spectator of Friedrich Dürrenmatt: Selected Writings. Translated by Joel Agee, the Selected Writings collects in three volumes the best of Dürrenmatt's plays, fictions, and essays—and as Manguel acknowledges—captures the essence of the author's work. Manguel writes:
I'd like to congratulate the University of Chicago Press for allowing us once again to read Friedrich Dürrenmatt in English, thereby restoring to the English-speaking public one of the most important writers of the 20th century … Dürrenmatt's best writing has been included, and almost any of these pieces is an astonishing example of a writer's power to portray and explain experience, and then subvert the whole procedure by opening up his arguments to unanswerable questions. Reading Dürrenmatt's work leaves us with the impression of having witnessed the creation and then the explosion of a small galaxy. The light continues to reach us long after closing his books.
We created a Friedrich Dürrenmatt website where you can peruse a fascinating collection of excerpts and essays, including an interview with Dürrenmatt .