Press Release: Atkinson, Mean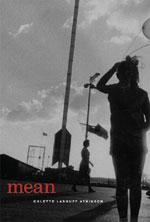 In the appropriately titled Mean, Colette LaBouff Atkinson's speakers confront a series of cruel lovers, estranged ex-husbands and ex-ex-wives, neglectful parents, disrespectful children, menacing drunks, would-be rapists, well-meaning but ineffectual teachers, and that annoying kid in first grade who wouldn't leave you alone. Managing to "say" what most of us would only think but never dare speak out loud, this stunning debut collection reveals that the horrors and cruelty we experience in everyday life can turn out to be very real indeed. But Atkinson does not merely rake her subjects across the coals: she deftly exposes, instead, how the world mirrors back to us our own meanness, lending it a truth and a history. In forty-three deadpan, often merciless prose poems that are masterpieces of the form, Mean lays bare the darkness within the narrator's heart as well as in ours.
Read the press release.