Allen Grossman wins 2009 Bollingen Prize in Poetry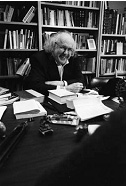 This spring, the University of Chicago Press will proudly publish True-Love: Essays on Poetry and Valuing by revered poet-critic Allen Grossman. In advance of this publication, we are very excited to announce that Professor Grossman has been awarded Yale University's Bollingen Prize in American Poetry.
A three-judge panel—composed of Frank Bidart, poet and winner of the 2007 Bollingen Prize in American Poetry, Peter Cole, poet and visiting professor at Yale University, and Susan Stewart, poet and professor of English at Princeton University (and Press author of the National Book Critics Circle award-winning Columbarium and, more recently, Red Rover, among many others)—described Grossman as "a profoundly original American poet whose work embraces the co-existence of comedy and tragedy, exploring the intersection of high poetic style and an often startling vernacular.… A distinguished teacher of poetics and literature, Grossman has influenced three generations of American writers. He has characterized the lyric poet as an individual who, 'by means of this art, seeks to speak with the utmost seriousness about the totality of what he experiences,' and Grossman himself has been refreshingly restless in that pursuit."
Reached for comment, Judith Grossman responded: "Allen feels deeply honored by this award. The Bollingen is the most prestigious prize for American poetry, and the list of honorees is extraordinary–it includes Robert Frost, Wallace Stevens, William Carlos Williams, Marianne Moore, and virtually all the major poets of the modern era. The first Bollingen prize winner was Ezra Pound–a controversial choice. However, he was a mentor to James Laughlin, founder of New Directions Press, which has published many of Allen Grossman's books, so that there is a closing of the circle here."
The Bollingen Prize in American Poetry, established by Paul Mellon in 1949, is awarded biennially by the Yale University Library to an American poet for the best book published during the previous two years or for lifetime achievement in poetry. Previous winners include Wallace Stevens, Marianne Moore, W. H. Auden, E. E. Cummings, Louise Glück, Adrienne Rich, and Jay Wright. The prize includes a cash award of $100,000.
Congratulations to Professor Grossman on a lifetime of poetic achievement!