What's in a name of 45 letters?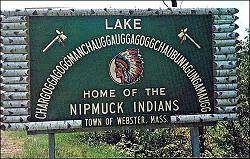 Yesterday, NPR's All Things Considered reported on a three-mile long lake in central Massachusetts with a name that's nearly as big. Lake Chargoggagoggmanchauggagoggchaubunagungamaugg, known in daily conversation as the easier-on-the-tongue Lake Webster, is, according to local lore, named for a Native American phrase that means "You fish on your side, I'll fish on my side and nobody fishes in the middle." In 1954, the lake achieved immortally with a catchy ditty by Ethel Merman and Ray Bolger called the "The Lake Song" and it's back in the news today: apparently, two local signs that misspelled the lake's name are now being corrected.
Geographer Mark Monmonier loves scanning maps for unusual place names, and a few years back, he published a book on odd toponyms called From Squaw Tit to Whorehouse Meadow: How Maps Name, Claim, and Inflame. After hearing Robert Seigel's story yesterday, we dipped back into Monmonier's tome and found the lake on page 80; alas, it was too long, it seems, to print more than once, lest our ink budget be depleted in one word. But never fear. From Squaw Tit to Whorehouse Meadow is full of unusual places names and the stories behind them; it is, indeed, as Publisher's Weekly noted, a "a trove of giggle-inducing lore." If you've ever wondered what's in a name, or, more appropriately, what's in a place name, Monmonier has the history. In Dago Gulch, Montana and Jap Valley, California, he finds, it's a legacy of racial pejoratives. In Mollys Nipple, Utah, and Outhouse Draw, Nevada, it's a reminder of an age before political correctness. And in Intercourse, Blue Ball, and Bird-in-Hand—all in Pennsylvania—it's an opportunity to guffaw. The first book to laugh in response to the obvious humor and reflect the contentious history of place names—not to mention the cartographic and political imbroglios they engender—From Squaw Tit to Whorehouse Meadow is must-reading for anyone who has ever wondered how places get their names. Read an excerpt.