The Burnham Plan Centennial with author Carl Smith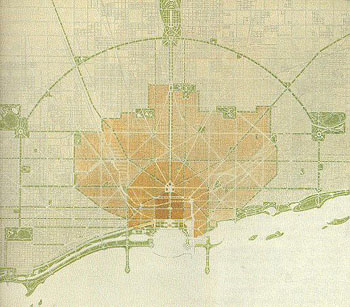 In 1909, with the backing of the Commercial Club of Chicago, architects Daniel Burnham and Edward Bennett published one of the most influential documents in the history of urban planning: The Plan of Chicago. Responsible for many of the city's most distinctive features, including its lakefront parks and roadways, the Magnificent Mile, and Navy Pier, the Plan (see a digitized scan of the original Plan at the Encyclopedia of Chicago website) reflected the city elite's response to the massive influx of inhabitants to urban centers during America's industrial age. Even today as the City of Chicago celebrates the centennial of the Plan's publication Burnham's influential document continues to spark debate over how urban planners can strike a balance between providing a livable habitat and one that can sustain industrial and economic growth.


For the centennial celebration, the city—along with the University of Chicago, the Press, the Chicago Public Library, and many other supporting organizations—is offering a chance for Chicagoans to engage that debate first-hand with a number of events and activities this summer and fall—from Zaha Hadid and the UNStudio's architectural exhibits in Millennium Park, "honoring the forward-looking spirit of the Plan of Chicago, to the CPL's One Book, One Chicago series which has, for it's Fall 2009 program, chosen author Carl Smith's fascinating examination of the Burnham Plan in, The Plan of Chicago: Daniel Burnham and the Remaking of the American City.
The One Book, One Chicago program will run throughout the months of September and October with a number of readings and talks, hosted by some of the city's most prominent architects and scholars among others, focusing on Smith's book and it's insightful examination of Burnham's Plan. But beginning today and running through the weekend, Carl Smith himself will be hosting daily lectures and guided tours highlighting some of the city's most prominent historic landmarks and their relationship to the Plan. Smith will also give a talk this Sunday at the Arlington Heights Memorial Library and another at the Harold Washington Public Library downtown on October 24th (become a fan of our Plan of Chicago Facebook page for updates on more activities and talks featuring Smith and other UCP authors during the centennial celebrations).
It's impossible to understand where our fair city is headed without understanding its past, so read up on the subject with a copy of Smith's The Plan of Chicago: Daniel Burnham and the Remaking of the American City or one of our other fascinating books on Chicago's storied architectural history (scroll down the page a bit) and then get involved with some of the great events for the Plan of Chicago Centennial Celebration.
Read the introduction and first chapter to Smith's book.