Preserving the last wild habitats of the Great Plains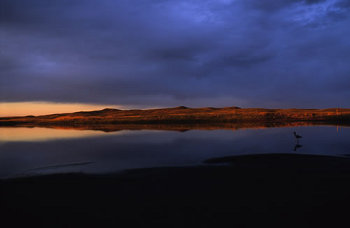 Driving through the Midwest without falling asleep at the wheel can be a test despite the ubiquitous presence of Starbucks at nearly every overpass from Nebraska to Chicago. Not that it wouldn't be rather, well, "plane" otherwise, but American industrial agriculture definitely has transformed much of the landscape of the North American interior into a monotonous, homogeneous grid. And the adverse impacts of these short-sighted agricultural practices go far beyond aesthetics, threatening public health, as well as the profitability of other industries that rely on the fragile ecosystems of the American heartland—ecosystems that have, over the last century, been all but obliterated. All the more reason why we should celebrate the hard work of folks like Michael Forsberg whose stunning photographic journey through some of the last remaining wild habitats in the Midwest has just hit the bookstore shelves in Great Plains: America's Lingering Wild.
In a recent article for the Nebraska based publication Prairie Fire, Forsberg himself details some of the trials and tribulations he endured to capture the rare images included in his new book, as well as some of the reasons he has for enduring. Toward the end of his piece Forsberg writes:
Will we as a culture also decide to find equal value and virtue in protecting and restoring our Plains' rich natural heritage, its amazing natural diversity and all the ecosystem services that its nature provides? In the long view, can the Great Plains function as working wilderness?
The contents of this book, and its … photographs, are not sufficient enough to answer these questions, but perhaps it is a sufficient start to a conversation. Time is short. Let's not waste it.
Read the rest on the Prairie Fire website and check out this recent review of the book in Lincoln's Journal Star.
Also see a gallery of photographs and sample pages in PDF format (4.2Mb).