Roger Ebert's Big Month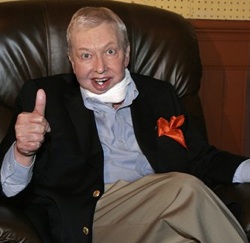 For a man that hasn't uttered a word since 2006, Roger Ebert is speaking loudly to all of us this week. He has been in the news twice recently, most notably for his candid interview in the new issue of Esquire magazine (which includes a jarring portrait of the famous film critic, whose face has transformed nearly beyond recognition since he last graced our television screens and offered his famous thumbs up or down from the balcony of the set of "At the Movies"). Ebert emerges in Chris Jones's touching prose as a fighting spirit who has reconciled his lot and turn tragedy into triumph—Ebert now blogs prolifically (and in meta moment facilitated by the immediacy of online publishing, Ebert wrote this week about his interview, the reception of the article, and that photo on his blog just as buzz about the Esquire article was reaching a crescendo online) and has become a popular tweeter on Twitter. On which platform he again made headlines. You see, pop singer John Mayer recently made some contentious comments in a Playboy magazine interview, and Ebert chimed in, defending the very women Mayer derided. (You can read all about the tongue-in-cheek Twitter tsk-ing here). All of this serves to remind us that even though he's lost his public speaking voice, Ebert's words still resound with millions of his devoted fans.
For those who still aren't sated by Ebert's blog, Twitter feed, and reviews, the Press has two collections of Ebert's essays and criticism to tide you over. Our most recent Ebert collaboration, Scorsese by Ebert is especially apt reading today, as the great director's new picture, Shutter Island, opens tonight. An intimate portrait of mutual admiration, Scorsese by Ebert records America's most respected film critic's long engagement with the works of America's greatest living director, featuring reviews of every pre-2008 feature film in Scorsese's considerable oeuvre. (For those curious on Ebert's take on Scorsese's latest, the three-and-a-half star review of Shutter Island is available here.) For a taste, read an excerpt here, and check out the behind-the-scenes perspective of collaborating with Ebert from UCP assistant editor Rodney Powell here.
Awake in the Dark: The Best of Roger Ebert collects Ebert's very best reviews, interviews, and essays to present a picture of the indispensable critic's numerous contributions to the cinema and cinephilia. Included in this volume is what Ebert told interviewer Chris Jones was "the best interview I ever wrote for Esquire," "Saturday at Lee —-ing Marvin's," among other unforgettable gems of a storied career.
But the book everyone is waiting for, The Great Movies III, won't be out until October 2010. (Despite what the Esquire piece inferred, advances have not yet been delivered to the critic; the book is still in production. In related news, we are sorry to report we are not the publisher of the forthcoming The Pot and How to Use It.) The wait will be worth it, we promise. This third collection, featuring articles written from late 2004 through 2009, continues Ebert's consideration of landmarks both expected (Ingmar Bergman's Fanny and Alexander) and unexpected (Harold Ramis's Groundhog Day). These engaging essays will introduce new viewers to some of the best films ever made, while revealing new insights to film buffs and cinema connoisseurs. The Great Movies III will only solidify Ebert's reputation as America's most respected—and trusted—film critic. Stay tuned to this space for more on the forthcoming book, and mark your calendars for a fall treat.