Roger Ebert Finds His Voice Online, Wins Webby Person of the Year Award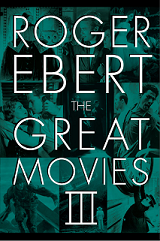 Not long after Roger Ebert published Awake in the Dark with the Press in 2006, he lost the ability to speak. But anyone who has been keeping up with his career over the past several years knows that he hasn't been silent. Far from it, in fact. In addition to publishing two additional books with the Press (2008's Scorsese by Ebert and the forthcoming The Great Movies III), he continues to review films for the Chicago Sun-Times and has even found time to compile his favorite rice cooker recipes into a cookbook, due out this fall (sadly, not from the UCP). But perhaps his most notable achievement is his robust cyber presence; indeed, as Chris Jones posited in his moving profile of the critic in the February issue of Esquire, he needed to lose his speaking voice to find his voice again online. Jones writes, "More than five hundred thousand words of inner monologue have poured out of him, five hundred thousand words that probably wouldn't exist had he kept his other voice.… He spends several hours each night reclined in his chair, tending to his online oasis by lamplight. Out there, his voice is still his voice—not a reasonable facsimile of it, but his."
Between his always-entertaining Twitter feed and his ever-illuminating blog, Ebert is more prolific than ever, and closer to his readers, too. His second coming as a blogger was officially recognized this week when the International Academy of Digital Arts & Sciences awarded Ebert a Special Achievement Webby Award. In naming him the Webby Person of the Year, the IADAS noted:
In addition to his film criticism, which remains as eloquent as ever, [Ebert's] online journal has raised the bar for the level of poignancy, thoughtfulness and critique one can achieve on the Web, while at the same time shining a light on the most important issues facing journalism as it relates to the Internet itself. Ebert's insights— be they in film, online media, journalism or life—and his unparalleled level of engagement with followers and fans—has made the Internet a more thoughtful, engaging and self-aware environment.
As Ebert's voice flourishes online, it continues to resonate in more traditional forms, as well. Ebert's The Great Movies III, due out in October (the book jacket is making its online debut at the top right of this post), is the third collection of essays on the crème de la crème of the silver screen, each one a model of critical appreciation and a blend of love and analysis that will send readers back to the films with a fresh set of eyes and renewed enthusiasm—or maybe even lead to a first-time viewing. From The Godfather: Part II to Groundhog Day, from The Last Picture Show to Last Tango in Paris, the hundred pieces gathered here display a welcome balance between the familiar and the esoteric, spanning Hollywood blockbusters and hidden gems, independent works and foreign language films alike. Each essay draws on Ebert's vast knowledge of the cinema, its fascinating history, and its breadth of techniques, introducing newcomers to some of the most exceptional movies ever made, while revealing new insights to connoisseurs as well. The Great Movies III is sure to please his many fans and further enhance his reputation as America's most respected—and trusted—film critic.
Congratulations to Mr. Ebert on all of his success. We look forward to reading his writing—and hopefully publishing some more of it—for many, many years to come.