Literary Lives on Display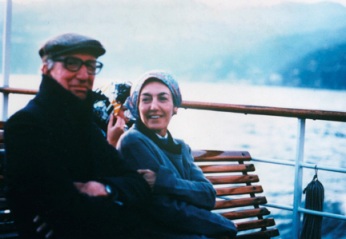 Fans of National Book Award–winning novelist Shirley Hazzard and her late husband, Francis Steegmuller, a literary critic, translator, and biographer, are in for a treat if they can make it to New York before January 31st: the New York Society Library is featuring an exhibition of photos, manuscripts, correspondence, and literary ephemera from the couple. Given the pair's long careers, great success, and wide-ranging literary friendships and contacts, the exhibition promises to be fun for any fans of twentieth-century literature.
Us Chicago folks, of course, will be looking out in particular for any documents relating to the couple's longtime second home, Naples—the subject of the one Hazzard and Steegmuller book that we're proud to have on our list, The Ancient Shore: DIspatches from Naples. A highly literary account of a love affair with a complicated, rebarbative, but enchanting city, the book is perfect reading for late summer, when vacation is but a memory and the responsibilities of autumn loom.



"The world of Francis Steegmuller and Shirley Hazzard has been defined by high civility, grace and an enduring dedication to literature," writes the New York Society Library. We couldn't agree more.