The difficulty of loving a dog
One of the Press's unexpected bestsellers of 2000 was a little book translated from the French, The Difficulty of Being a Dog, by the novelist and essayist Roger Grenier. In the weeks following publication, as Grenier's book sold through three hardcover printings, the Press fielded phone calls from readers concerned to know more about Abby, our cover dog. Her pensive face prompted some to ask, was she OK?
Abby was not our first choice for the cover of Grenier's book. Initially we approached a well known, commercially successful fine-art photographer for permission to reprint his photograph of an even sadder-looking hound. He declined permission on the grounds that the use was too commercial. At that point the book's acquisitions editor, Alan Thomas, also a photographer, turned to his own dog, and our cover was the result. Jill Shimabukuro, the book's designer, provided two versions. The unpublished alternate—with a less oblique view of Abby—is reproduced here as well.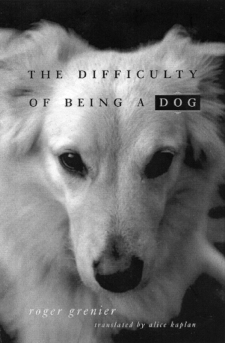 For those who may still wonder about Abby on picking up the book, we are sorry to announce that she passed away this week at the age of fourteen. When he heard the news, Roger Grenier recalled that Romain Gary's son once told him that his father cried on only two occasions: for the death of de Gaulle and that of his dog Sandy. No, Grenier replied, "he cried a third time, for the death of my dog Ulysse."