The Ballad of the Lonely Marketeer
'Twas the night before editing class, when all through the house,
Not a Tumblr was stirring, not even about Leo Strauss.
Our Manual was hung by the Craigslist chair with care,
In hopes that substantive freelance projects soon would be there.
Its semicolons were nestled, all snug in their beds,
While visions of in-line text citations danced in their heads.
And yoga instructor partner in his 'kerchief, and I in my cap,
Had just settled our auto-insurance claim before a between blogging nap.
When from the publicist in Reference Division there arose such a clatter,
I sprang to The Chicago Manual of Style to see what was the matter.
Away to my (still standing!) 2006 MacBook Core-Duo I flew like a flash,
Tore open my freeware version of Word and threw up the sash.
The moon on the breast of Chicago's (seriously?) ten inches of snow,
Gave lustre to the bags of Fiery Hot Cheetos on the sidewalk below.
When, what to my wondering eyes should appear?
But a miniature CMoS, available for download here.


With such masterful copyediting (what symphonic soundtrack? Mahler?),
I thought for certain it must be trademark Carol Fisher Saller.
More rapid than in our Online Q & A, the pithy one-liners came,
And mini-CMoS whistled, and shouted, and called them by name!
"Now, Reference! now, Bias-Free Language! Fair Use and Hyphenation!
On, Parallel Structures! on, UNICODE! XML and Electronic Publications!
To the titles of named podcasts! to the URL in the following sample!
Now dash away! Dash away! Dash away to the next example!"
(As useless master's degrees that before the student-loan aggregate fly,
When they first qualify for consolidation and mount to the sky.
To the top of the non-profit repayment plan the coursers they flew,
With the sleigh full of paperwork, and thanks to Ted Kennedy, too.)
And then, in a twinkling, I heard via production,
The prancing and pawing of a failed parallel construction:
As I tripped over my copy of Hopeful Monsters and turned to look
I thought: wish I'd ordered that damn free Powell ebook.
She was dressed all in teal, like a Scandinavian Ford Expedition,
Her warm red embellishments proclaiming "Sixteenth Edition."
This is a gratis download? Gosh, it's like when I donate to my TIAA-CREF.
She looks just like the full-sized CMoS—OMG! She's a PDF!
Her lowercase characters: how they twinkled! her spacing: how merry!
Her diacritics: like orchids! Her transliteration: like a cherry!
Her droll little folds drawn up like a bank account already spent:
I've figured it out. She's a Chicago Manual of Style mini-holiday ornament!
We celebrate Hanukkah and Xmas (the yogi and I), but really we're pagans.
Grammar's a universal gift, like marimekko or the songs of Donald Fagen.
You can hang this mini-CMoS on a globe or your holiday party sweater,
Embracing the avant-'90s? Send to Eddie Vedder.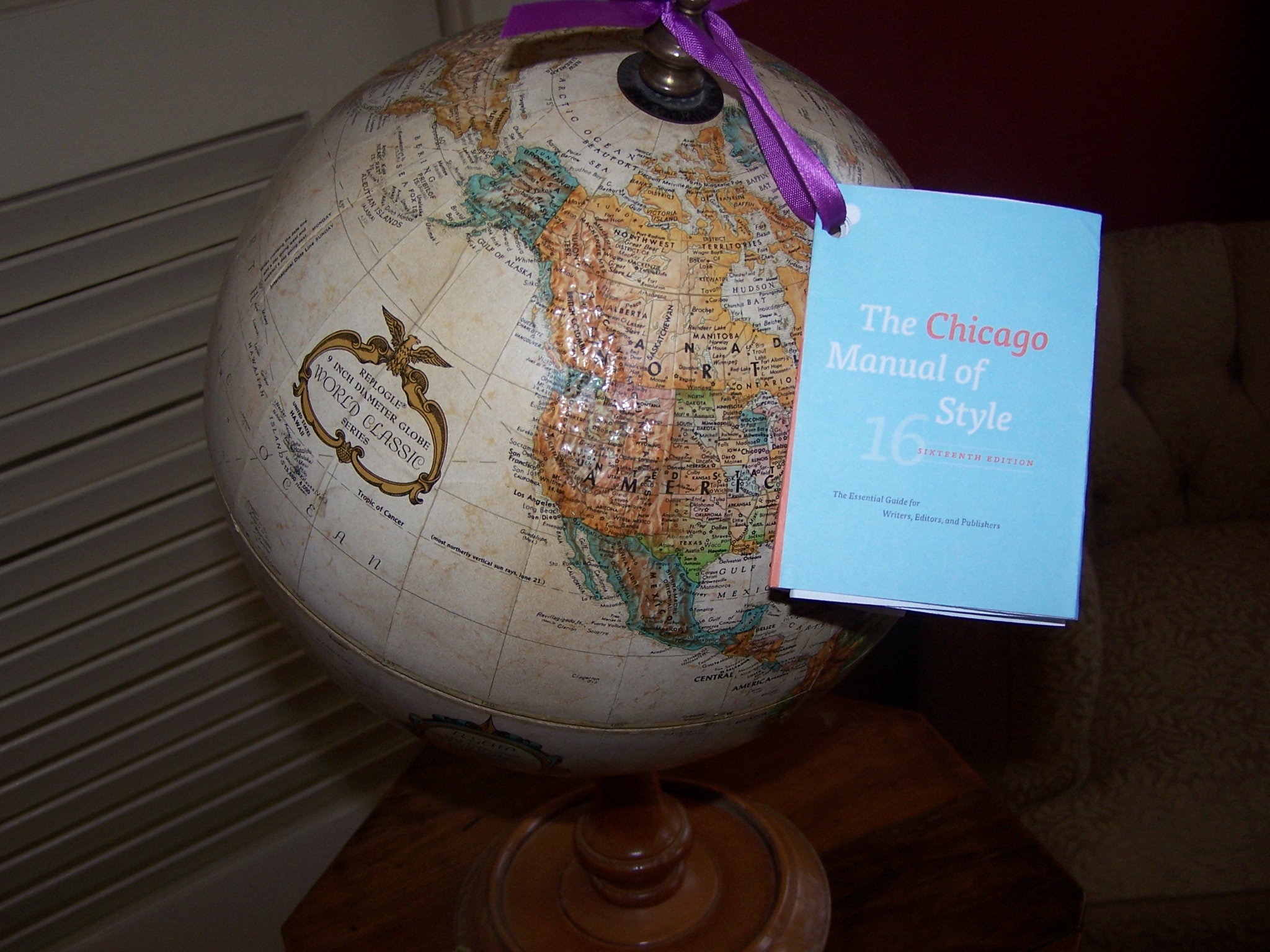 Her elocution is flawless, her diction spot-on.
She's perfect for Festivus—hey, kids, what's a sitcom?
A wink of her eye and a twist of her (Linda Blair reference) head,
Soon let me to know I had nothing to dread.
She spoke not a word, but went straight through the muck,
Writing opportunities daintily merged with conceptual art; what luck!
And laying her finger astride her dotted line,
Giving a nod, up the chimney (postindustrial metaphor?) she inclined.
She sprang to the Blue Line, incanting abbreviations like a psalm.
But will she read http://uchicagopress.tumblr.com?
I heard myself query, dazed like Thomas de Quincey post-opium poppy,
"I thought I'd be writing for the LRB, not generating marketing copy?"

Happy holidays from Chicago! Download your own Chicago Manual of Style mini-ornament here.