Hemingway & Gellhorn: The Bride Stripped Bare by Her Bachelors
So much Hemingway, so little time. So little Hemingway, so much time? Something about little—not literal size; something about Hemingway—Hemingway and. . . . Hemingway and. . . . Hemingway and . . . Gellhorn?
James Gandolfini—indomitable analysand and crime boss Tony Soprano in The Sopranos, Patricia Arquette-beating goon Virgil in True Romance, and producer of more than one documentary on war veterans for HBO—signed on in June 2010 to serve as executive producer of a then-untitled biopic centered around Ernest Hemingway's sojourn during the Spanish Civil War with Collier's Weekly correspondent Martha Gellhorn. Fast forward to 2012: the film Hemingway & Gellhorn, starring Clive Owen and Nicole Kidman, and directed by Philip Kaufman (The Right Stuff, Henry & June), will premiere on HBO on May 28th. Another tough-guy with a (tortured) pen of gold tale? Not quite.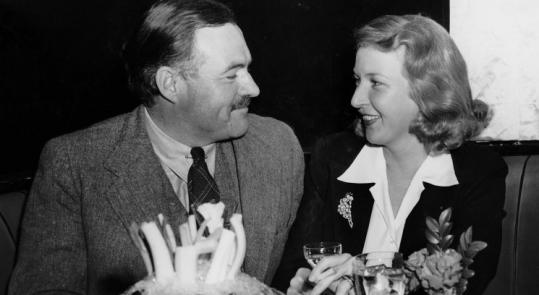 Martha Gellhorn married Hemingway in December 1940, after the pair lived together off-and-on for four years, which the movie charts from an  initial holiday encounter in 1936 Key West. Beginning with those early contributions to Collier's, Gellhorn followed reportage during Franco's protracted war with the Spanish government with a trip to Germany that chronicled Hitler's rise, before she moved on to Czechoslovakia, Finland, Hong Kong, Singapore, Burma, and the UK, among other locales, alongside the unfolding of World War II. She witnessed D-Day on Normandy Beach without a set of press credentials, posing as an impromptu medic, though Hemingway had earlier tried to block her flights to the Italian Front and later France, delivering the oft-cited line:
"Are you a war correspondent, or wife in my bed?"
Gellhorn was perhaps a badass at both pursuits (She demurs, "I daresay I was the worst bed partner in five continents."), but definitely the former. A lifelong leftist, after she divorced Hemingway in 1945, she went on to cover wars in Vietnam, the Middle East, and Central America, penning nearly twenty books, and making her home in more than nineteen international locations before her death by self-inflicted overdose at the age of 89 in 1998.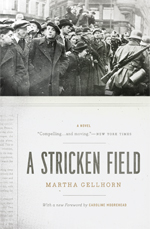 One of those books is A Stricken Field, which fictionalizes a journalist's return to Prague after its annexation (1938), in a narrative voice both frustrating and futile, as the main character struggles to assist its refugees and make sense of the once-proud democracy's difficult plight under the Gestapo. Here, Gellhorn's voice is both clear and forceful, more reliant on journalistic observation and political reflection than Hemingway's staccato figures of speech, but still shaped by the years they overlapped as lovers and correspondents to war and second-wave modernism. In many ways A Stricken Field is a fine follow-up to Hemingway & Gellhorn, showcasing Gellhorn at the height of her powers, self-helming a fictionalization of her life as a correspondent under critical regime changes and conditions of duress.
No comment on Nicole Kidman (the vehement atheist Gellhorn, who witnessed the liberation of Dachau, wrote a NOVEL about McCarthyism, and slept with a Major General on Hemingway's watch might have reason to turn over about that particular casting choice).