Winold Reiss: Painter of the Harlem Renaissance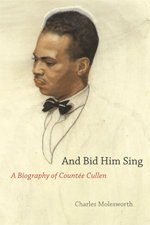 And Bid Him Sing: A Biography of Countée Cullen by Charles Molesworth considers the extensive body of work and unpublished correspondence, as well as the life of Harlem's legendary poet-citizen. Cullen's volume Color (1925) was a watershed moment for the Harlem Renaissance; his translation of Euripides' Medea was the first by an African American of a Greek tragedy; and his tumultuous existence, which included distant ties with his mother, a short-lived marriage to the daughter of W. E. B. Du Bois, and an untimely death at the age of forty-two, shadowed his role as one of the chief voices of his generation.
A complicated life often demands more than simple illustration. This is evident in Molesworth's biography, but also in the unattributed cover image gracing the book. The sketch of Cullen, credited to the National Portrait Gallery at the Smithsonian, is by German–American artist and designer Winold Reiss (1884–1953), who painted over 250 images of Native Americans (most notably the Blackfeet), traveled to Mexico to portray Aztec revolutionaries, and contributed dozens of portraits of Harlem Renaissance figures during the first-half of the twentieth century, when racial prejudice and tensions undermined much of American culture. His interior designs ranged from cafes at the Hotel St. Moritz to murals commissioned by the Cincinnati Airport, and his illustrations graced the covers of mainstream magazine's like Scribner's.
More on Reiss's role in the Harlem Renaissance comes from an introduction by Jeffrey C. Stewart, Reiss scholar and author of o Color America: Portraits by Winold Reiss (Smithsonian Institution, 1989), and Winold Reiss: An Illustrated Checklist of His Portraits (Smithsonian Institution, 1990):
In 1921 he visited his native Germany on the only trip he made back to Europe. Here he drew many portraits of German and Swedish folk types and colorful characters. After his return to New York City in 1922, he was chosen by the editor of the social welfare journal Survey Graphic to portray the major figures of the Harlem Renaissance for a special issue entitled Harlem: Mecca of the New Negro [March 1, 1925]. Dr. Alain Locke, Howard University philosophy professor and literary critic, was so impressed with Reiss's portraits that he chose him to illustrate The New Negro: An Interpretation [1925], the most important anthology of the Harlem Renaissance. In 1926, Survey Graphic asked Reiss to illustrate a special Pacific issue with portraits of Asian Americans.
As Reiss wrote in the September 1950 issue of The Native Voice, "To understand life, we cannot have prejudice." Many of Reiss's most iconic images stem from his work for Locke's The New Negro, including his portrait of Locke himself (below). Perhaps more fascinating, though, is the role played by this German immigrant artist in helping to visualize race at a moment when one of America's most important black arts movements gave us the permission to truly see ourselves as a nation, which could, as Cullen wrote with anger and earnestness, "make a poet black, and bid him sing!"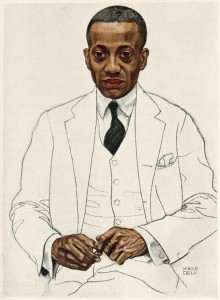 ***
It's a #UPWeek blog tour this week, part of the ruckus for AAUP's University Press Week—celebrating 75 years strong since the founding of the Association of American University Presses. We'll be joining 25 other UPs in highlighting the workings of the university press blogosphere. Five of our sisters-in-arms were featured today, and here's a wrap-up of what they had to say about why university presses matter:
At the Harvard University Press blog, Anthony Grafton, past president of the American Historical Association and longtime HUP-author, recalls how university press books introduced him to a world of discovery and argument as a young man—and continue to influence him still.
(One of our favorites) Author Jack Halberstam takes on the theme of the university press at the Duke UP blog, emphasizing their role in disseminating both radical and slow knowledge during a time when literacy is on the line.
At Stanford University Press, Steve Levingston, nonfiction editor at the Washington Post Book World, looks at some recent university of press hits from the Political Bookworm blog.
Claire Bond Potter, author of the Tenured Radical blog, considers how and why university presses are sustainable presses for the University of Georgia Press blog.
And finally, Ned Stuckey-French and Bruce Miller offer a bit of a manifesto on why we need university presses—the University of Missouri Press knows this better than anyone lately, and the authors' collaborative take on their blog isn't to be missed.
For a full schedule of this week's blog tour, click here.