The Summer of Hillary Chute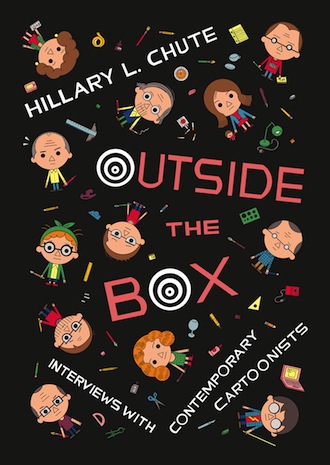 Not a bad summer for Hillary Chute, so far. The University of Chicago's reigning doyenne of the history of comics and cartooning, Chute earned several nods from Stephen Burt in a recent Artforum piece (from a summer feature on graphic content, see print issue), for her work in Outside the Box: Interviews with Contemporary Cartoonists, which offers unprecedented access into the life-stories and processes of cartooning's pantheon, including Lynda Barry, Alison Bechdel, Joe Sacco, Art Spiegelman, and Chris Ware.
In that same issue, Chute reviews the work of indie-feminist cult cartoonist Julie Doucet, unsparingly delving into the fantastical materiality "Heavy Flow," while placing Doucet at the helm of a movement that usurped the comics form for the purposes of feminist art:
Doucet's darkly witty comics offer an aesthetic at once loose and dense. Her stylish line is controlled and masterful, while the rich spaces of her frames, with their heavy inking and deep perspective, teem with details and seething objects that seem as if they are about to burst out of the picture. The bodies in her work are simultaneously exuberant and seething. In the classic "Heavy Flow" (collected in Twisted Sisters: A Collection of Bad Girl Art [1991]), the Julie character at the center, menstruating, grows into a Godzilla-like monster, bleeding and crushing buildings in search of Tampax.
Doucet is central to our understanding of comics as a particularly vibrant platform for telling and showing women's stories. Her work in the 1990s ushered in an era of comics as a feminist art form—a shift we can note throughout the past twenty years, marked by the success of Marjane Satrapi's Persepolis (2000) and Alison Bechdel's Fun Home: A Family Tragicomic (2006). Doucet became part of a wide-ranging punk- and Riot Grrrl–inflected cultural uptake—even getting a shout-out in Le Tigre's 1999 song "Hot Topic," alongside the likes of VALIE EXPORT and Carolee Schneemann.
If that weren't enough, pick up the latest issue of Bookforum, which features another review by Chute, this time on Ariel Schrag's Adam. And if you're not a subscriber, keep your eyes peeled for the Summer 2014 issue of Critical Inquiry "Comics and Media," coedited by Chute and Patrick Jagoda, which should hit mailboxes and newsstands (unfair academic joke, I know, I know) any day now.
To read more about Outside the Box, click here.