Terror and Wonder: our free ebook for September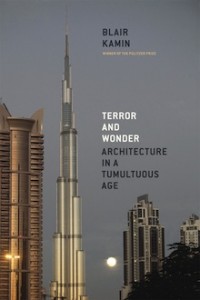 For more than twenty years now, Blair Kamin of the Chicago Tribune has explored how architecture captures our imagination and engages our deepest emotions. A winner of the Pulitzer Prize for criticism, Kamin treats his subjects not only as works of art but also as symbols of the cultural and political forces that inspire them. Terror and Wonder gathers the best of Kamin's writings from the past decade along with new reflections on an era framed by the destruction of the World Trade Center and the opening of the world's tallest skyscraper.
Assessing ordinary commercial structures as well as head-turning designs by some of the world's leading architects, Kamin paints a sweeping but finely textured portrait of a tumultuous age torn between the conflicting mandates of architectural spectacle and sustainability. For Kamin, the story of our built environment over the past ten years is, in tangible ways, the story of the decade itself. Terror and Wonder considers how architecture has been central to the main events and crosscurrents in American life since 2001: the devastating and debilitating consequences of 9/11 and Hurricane Katrina; the real estate boom and bust; the use of over-the-top cultural designs as engines of civic renewal; new challenges in saving old buildings; the unlikely rise of energy-saving, green architecture; and growing concern over our nation's crumbling infrastructure.
A prominent cast of players—including Santiago Calatrava, Frank Gehry, Helmut Jahn, Daniel Libeskind, Barack Obama, Renzo Piano, and Donald Trump—fills the pages of this eye-opening look at the astounding and extraordinary ways that architecture mirrors our values—and shapes our everyday lives.
***
"Blair Kamin, Pulitzer Prize-winning architecture critic for the Chicago Tribune, thoughtfully and provocatively defines the emotional and cultural dimensions of architecture. He is one of the nation's leading voices for design that uplifts and enhances life as well as the environment. His new book, Terror and Wonder: Architecture in a Tumultuous Age, assembles some of his best writing from the past ten years."—Huffington Post
Download your free copy of 
Terror and Wonder 
here
.