Literature in translation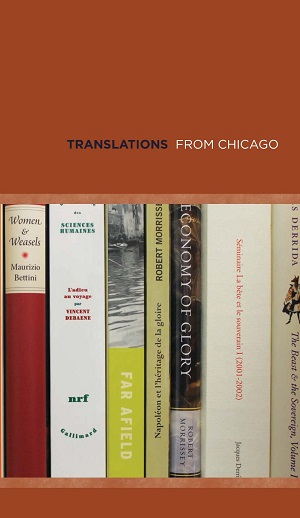 In the wake of the controversy (or welcomed interest, depending on your position) surrounding Patrick Modiano's recent Nobel Prize in Literature, the AAUP circulated the hashtag #litintranslation, in order to promote those books published by university presses that attempt to overcome the dearth of literature in translation that has long acquiesced to a peculiar hegemony in American letters. In fact, Yale University Press already had plans to publish Modiano's Suspended Sentences: Three Novellas this fall, as part of their Margellos World Republic of Letters series. A quick review of the tweets circulating under #litintranslation reveals an equally robust list of works brought into the English language by the university press community, including several by the University of Chicago Press. With that in mind, and on the heels of the Frankfurt Book Fair, we're debuting our sales catalog Translations from Chicago, where among hundreds of storied works spanning the disciplines, you can find:
The Selected Letters of Charles Baudelaire: The Conquest of Solitude, ed. and trans. by Rosemary Lloyd
Vegetables: A Biography by Evelyn Bloch-Dano, trans. by Teresa Lavender Fagan
One Must Also Be Hungarian by Adam Biro, trans. by Catherine Tehanyi
Sketch for a Self-Analysis by Pierre Bourdieu, trans. by Richard Nice
The Beast and the Sovereign, Vols. I and II by Jacques Derrida, trans. by Geoffrey Bennington
The Voice Imitator by Thomas Bernhard, trans. by Kenneth J. Norcott
Youth without Youth by Mircea Eliade, trans. by Mac Linscott Ricketts, with a Foreword by Francis Ford Coppola
To see the complete catalog in PDF form, click here.