Every student who studied with the Rev. Gary Davis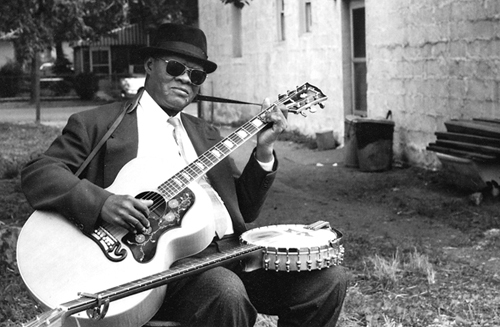 The Reverend Gary Davis was born in Laurens, South Carolina, on April 30, 1896. He died in Hammonton, New Jersey, on May 5, 1972. In between, he become one of the most protean guitar players of the twentieth century, and his finger-picking style influenced everyone from Bob Dylan and the Grateful Dead to Keb' Mo' and Blind Boy Fuller.
Born partially blind as the sole surviving son to two sharecroppers in the Jim Crow South, by the 1940s, Davis, ordained as a Baptist minister, was playing on Harlem streetcorners and storefronts, making his living as an itinerant, singing gospel preacher. By the beginning of the 1960s folk revival, he had moved in circles that included Lead Belly and Woody Guthrie, recorded a series of albums for Prestige Records, and been embraced by a generation of educated, middle-class young people eager for fodder to spur a folk revival. See his performance at the 1965 Newport Folk Festival for further illumination of this cultural congruence. Even before his death in 1970, he was the subject of two documentaries. Davis's legacy, however, still exists outside a canon that has acknowledged his peers, including Muddy Waters and Robert Johnson—his music, like his troubled life, is the stuff of myth, and as such, has charted a more intimate course through a series of covers and the musical offerings of his students, a group numbering in the dozens.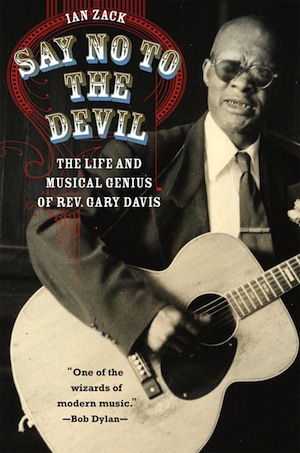 In concert with the publication of Say No to the Devil: The Life and Music of the Reverend Gary Davis, the first biography of Davis, researched and authored by Ian Zack, we're putting together a special feature, with performances, of every student who studied with the Reverend. In the meantime, here's a teaser list of some names, just to give you a sense of the breadth of those who sought Davis out, and in whose own compositions, the master player's gospel still lingers.
Phil Allen
Roy Book Binder
Danny Birch
Rick Blaufeld
Rory Block
Larry Brezer
David Bromberg
Ian Buchanan
Harry Chapin
Ry Cooder
Bruce Cornforth
Dion DiMucci
John Dyer
Allen Evans (one of Davis's final guitar pupils; a week or two before his death, Davis gave him a two-and-a-half hour lesson, then wanted to arm wrestle)
Joan Fenton
Janis Ian
Geno Forman
Blind Boy Fuller
John Gibbon
Stefan Grossman
Ernie Hawkins
Larry Johnson
Steve Katz
Nick Katzman
Jesse Lee Kincaid
Ken Kipnis
Barry Kornfeld
John Mankiewicz
Woody Mann
Alexander McEwen
Rory McEwen
Dean Meredith (drove Davis to visit Woody Guthrie at Brooklyn State Hospital in 1964)
North Peterson
Rick Ruskin
Alex Shoumatoff
Alan Smithline
John Townley
Dave Van Ronk
Bob Weir
Tom Winslow
Geoff Withers
As a bonus, here's Bob Dylan playing Davis's arrangement of the song "Candy Man," from a 1961 Minneapolis hotel tape (it's really good):