The AACM at 50
2015 marks the 50th anniversary of the Association for the Advancement of Creative Musicians, Inc.(AACM), founded on Chicago's South Side by musicians Muhal Richard Abrams (pianist/composer), Jodie Christian (pianist), Steve McCall (drummer), and Phil Cohran (composer).
A recent piece in the New York Times by Nate Chinen summarizes their achievements, in short:
Over the half-century of its existence, the association has been one of this country's great engines of experimental art, producing work with an irreducible breadth of scope and style. By now the organization's significance derives not only from the example of its first wave—including Mr. Abrams, still formidable at 84—but also from an influence on countless uncompromising artists, many of whom are not even members of its chapters in Chicago and New York.
The AACM's legend extends beyond their Chicago origins—just as emphatically as it remains intertwined with them. Aiming to "provide an atmosphere conducive to the development of its member artists and to continue the AACM legacy of providing leadership and vision for the development of creative music," the AACM turned twentieth-century jazz on its head, rolled it sideways, stood it upright again, and then leaned on it with the right combination of grace and pressure.
Among the events organized around this anniversary are Free at First (currently on view at Chicago's DuSable Museum of African American History, and running through September 6, 2015) and the forthcoming exhibition The Freedom Principle: Experiments in Art and Music, 1965 to Now, at the MCA Chicago (opening in mid-July), which builds around the aesthetics championed by the association and their legacy.
This YouTube playlist should woo you pretty hard: http://bit.ly/1EHQMid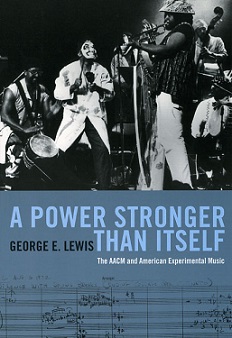 Our own connection to the AACM, worth every plug one can work, is George E. Lewis's definitive history A Power Stronger than Itself: The AACM and American Experimental Music (one of my favorite non-fiction books we've published). Lewis, who joined the AACM in 1971 when he was still a teenager, chronicles the group's communal history via twin channels of jazz and experimental cultural production, from the AACM's founding in 1965 to the present. Personal, political, filled with archival details—as well as theory, criticism, and reportage—the book is a must-read jazz ethnography for anyone interested in the trajectory of the AACM's import and influence, which as the NYT's piece notes, began from a place of "originality and self-determination," and landed somewhere that, if nothing else, in the words of Jason Moran, the Kennedy Center's artistic director for jazz, "shifted the cultural landscape."
To read more about A Power Stronger than Itself, click here.